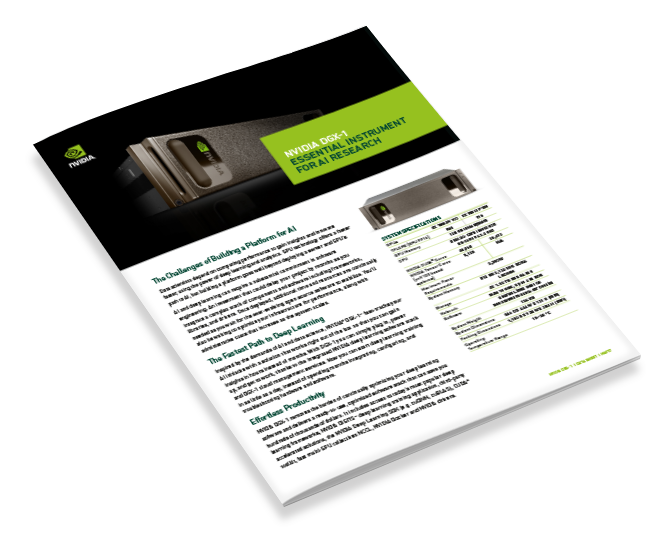 Click on the thumbnail to view the PDF.
The new NVIDIA DGX-1 is similar to the previous generation offering based on Pascal, but is powered by eight Tesla V100s GPUs, linked together via next-gen NVIDIA NVLink interconnect technology that ups the bandwidth per GPU to 300GB/s.
The rest of the system consists of:
Dual, 20-core Intel® Xeon® E5-2698 CPUs
512GB of RAM
four 1.92TB SSDs in RAID 0
a pair of 10GbE connections
There are a total of 40,960 CUDA cores (5,120 Tensor cores) in the system, with 128GB of total GPU memory, spread across those Tesla V100 processors. All told, the Volta-infused DGX-1 offers up to 960 TFLOPs of FP16 compute performance, versus 170 TFLOPs for the original, with significantly more bandwidth on tap.




SYSTEM SPECIFICATIONS
Model
NVIDIA DGX-1
GPUs
8X Tesla V100
8X Tesla P100
TFLOPS (GPU FP16)
960
170
GPU Memory
128 GB total system
CPU
Dual 20-Core Intel® Xeon® E5-2698 v4 2.2 GHz
NVIDIA CUDA® Cores
40,960
28,672
NVIDIA Tensor Cores (on V100 based systems)
5,120
N/A
Maximum Power Requirements
3,200 W
System Memory
512 GB 2,133 MHz DDR4 LRDIMM
Storage
4X 1.92 TB SSD RAID 0
Network
Dual 10 GbE, Up to 4 IB EDR
Software
Ubuntu Linux Host OS
See Software Stack for Details***
System Weight
134 lbs
System Dimensions
866 D x 444 W x 131 H (mm)
Packing Dimensions
1,180 D x 730 W x 284 H (mm)
Operating Temperature Range
10–35 °C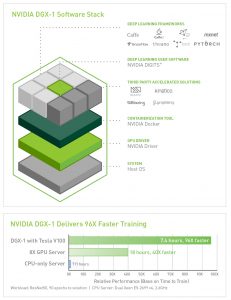 The new NVIDIA DGX-1 will be available at XENON. Customers who buy one today, can receive the Pascal-based version, and have the Tesla P100s swapped for V100s when they become available.