NVIDIA® DGX-1 Delivers Deep Learning Throughput of 250 Servers to Meet Massive Computing Demands of Artificial Intelligence
The NVIDIA® DGX-1™ is the world's first purpose-built system for artificial intelligence (AI) and deep learning with fully integrated hardware and software that can be deployed quickly and easily.
Built with groundbreaking new NVIDIA® Pascal-powered Tesla P100 accelerators, interconnected with NVIDIA® NVLink™.
Its revolutionary performance significantly accelerates training time and most major frameworks making the NVIDIA® DGX-1 the world's first deep learning supercomputer in a box.
NVIDIA® DGX-1 is available at XENON® a valued NVIDIA® partner who has demonstrated competency in deep learning and supporting large systems.
Comprehensive Deep Learning Software Suite
The NVIDIA® DGX-1 system includes a complete suite of optimized deep learning software that allows researchers and data scientists to quickly and easily train deep neural networks.
The DGX-1 software includes the NVIDIA Deep Learning GPU Training System (DIGITS™), a complete, interactive system for designing deep neural networks (DNNs). It also includes the newly released NVIDIA® CUDA® Deep Neural Network library (cuDNN) version 5, a GPU-accelerated library of primitives for designing DNNs.
It also includes optimized versions of several widely used deep learning frameworks — Caffe, Theano and Torch. The DGX-1 additionally provides access to cloud management tools, software updates and a repository for containerized applications.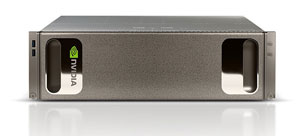 The NVIDIA DGX-1 system specifications include:
Up to 170 teraflops of half-precision (FP16) peak performance
Eight Tesla P100 GPU accelerators, 16GB memory per GPU
NVLink Hybrid Cube Mesh
7TB SSD DL Cache
Dual 10GbE, Quad InfiniBand 100Gb networking
3U – 3200W
Get a Quote