Designed for your office, NVIDIA® DGX Station™ is the world's first personal supercomputer for leading-edge AI development. Built on the same NVIDIA® GPU Cloud Deep Learning Stack powering all NVIDIA® DGX™ Systems, you can now experiment at your desk and extend your work across DGX Systems and the cloud.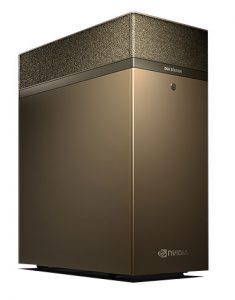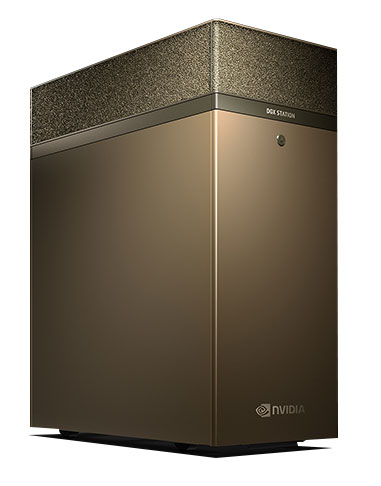 The DGX Station brings the incredible performance of an AI supercomputer in a workstation form factor that takes advantage of innovative engineering and a water-cooled system that runs whisper-quiet. The NVIDIA® DGX Station packs 480 TeraFLOPS of performance,with the first and only workstation built on four NVIDIA® Tesla® V100 accelerators, including innovations like next generation NVLink™and new Tensor Core architecture. This ground-breaking solution offers:
3x the performance for deep learning training, compared with today's fastest GPU workstations
100x in speed-up on large data set analysis, compared with a 20 node Spark server cluster
5x increase in I/O performance over PCIe-connected GPU's with NVIDIA NVLink technology
maximised versatility with deep learning training and over 30,000 images/second inferencing
The Only Supercomputer Designed for Your Office
NVIDIA® DGX Station is the fastest AI supercomputer designed for use at your desk. Whisper quiet at one tenth the noise of other deep learning workstations, it's designed for easy experimentation at the office. Meticulously crafted, DGX Station is the perfect addition to your lab, office, or workspace.
Get the Fastest Start in Deep Learning
Your real work is innovation and discovery; with DGX Station you can save up to a month in setup time alone. Just plug it in and power it up, for a deployment that's simple and intuitive. This integrated hardware and software solution lets you spend more time focused on insight, instead of piecing together components.
Productivity From Desk to Data Center
Spend less time and money on IT, and more time on data science. DGX Station can save you hundreds of thousands of dollars in engineering hours and lost productivity, waiting for stable versions of open source frameworks. Enjoy productive experimentation at your desk now, and then scale your work in the data center on NVIDIA® DGX-1™, or in the cloud—all powered by the NVIDIA® GPU Cloud Deep Learning Stack and container technology.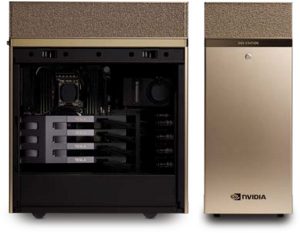 3X Faster Than the Fastest Workstations
DGX Station has the computing capacity of four server racks in a desk-friendly package, using less than one twentieth the power. It's the only personal supercomputer with four NVIDIA® Tesla® V100 GPUs, next generation NVIDIA® NVLink™, and new Tensor Core architecture. DGX Station delivers 3X the training performance of today's fastest workstations, with 480 TFLOPS of water cooled performance and FP16 precision.
Investment Protection
With DGX Station, you get enterprise grade support with access to NVIDIA® deep learning expertise, a library of expert training, software upgrades and updates, and priority resolution of your critical issues—all in one place.
View NVIDIA DGX Station Technical Specifications here.