XENON's High-End 8-way large shared memory server is extraordinarily powerful and reliable. It is the server of choice for mission critical applications and industries such as finance, telecom, government, energy and research.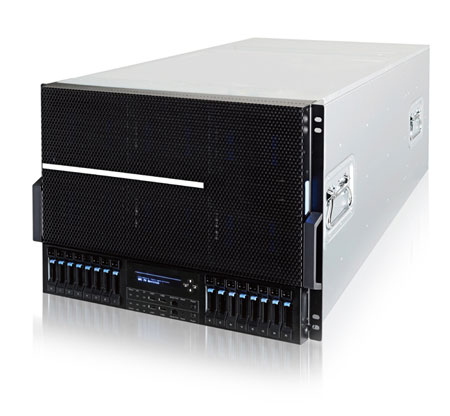 Features
8-way, large shared memory server
Offers loads of connectivity with 26 PCIe slots (i.e. 14x PCIe x8, 12x PCIe x16)
Flexibly configured into two sets of physically isolated 4-way or a single 8-way server
Equipped with over 60 RAS features with reliability up to 99.999%
Ideal for mission-critical environments where performance, expandability and reliability are required and applications requiring large shared memory such as; fat-memory supernode for a HPC cluster, in-memory databases (IMDB), Bio-informatics, HPD, BI, large-scale virtualization)
Specifications:
Utilising eight Intel® Xeon® E7-8857v2 3.0GHz 12 Core Processors (96x 3.0GHz cores)
96x 32GB DDR3 1600 Reg ECC RAM (3.0TB of shared memory)
Expandable to 12TB of memory
16x 2.5" 2TB SATA 6Gb Enterprise Class HDDs
26x PCIe slots (14x PCIe x8 and 12x PCIe x16)
Redundant power supplies
Runs industry standard x86-64 operating environments
Special Demo Price:
ex GST
$69,750
Normal MSRP:
$99,850 ex GST
For more information contact XENON or request a quote on your system today.
Get a Quote