MetaMux 48
MetaMux 48 is a hybrid multi-layer switch designed for the most latency critical networks such as trading environments.
It is multiple switches in one – performing layer 1 switching in only 5 ns, multiplexing/aggregation in 69 ns, and layer 3 routing protocols, making it extremely useful for connecting trading machines directly to exchanges, or tapping and aggregating timestamped packets.1
Features and Benefits:
Fast 48:1 multiplexing: Aggregate streams from multiple sources into a single stream for hand-off to exchanges, microwave links, or WAN links. Also configurable as multiple many-to-one multiplexers.
Integrated layer 1 switching: Patching, media conversion, tapping replication and packet statistics. Wire-once to reduce visits to the data center. Use Layer 1 broadcast to implement a return path with a latency of just 5 ns and virtually no jitter.
Deterministic: Replaces taps to monitor or share feeds such as market-data with full regeneration and no additional overhead.
Precision timestamping with synchronisation: Precisely timestamps packets on ingress using PPS or PTP synchronisation.
Flexible SFP/SFP+ support: Allows the use of less expensive modules, including direct attached copper cables, that are boosted by MetaMux's high performance signal recovery and regeneration.
Protocol flexibility: Protocol agnostic at layer 1 while layer 2 packet features support 1GbE and 10GbE with 100M. 100M Ethernet and rate conversion are planned for a future software release.
Fast filtering: Cut-through filtering based on specific ACLs.
Packet statistics: Advanced monitoring. Captures high-level packet statistics across all ports. Supports detailed switch statistics via SNMP or CLI. Provides tcpdump and LLDP on every port.
FPGA Development: Flexible platform with all 48 ports connected to the onboard Altera Arria 10 FPGA for custom applications.
x86-64 Linux management: Uses open standards platform and MOS operating software to provide user extensible solutions. Provides a host of features and yet it is barely detectable in the network. The latency has been verified in our own benchmarks, and also by STAC Research.
Get a Quote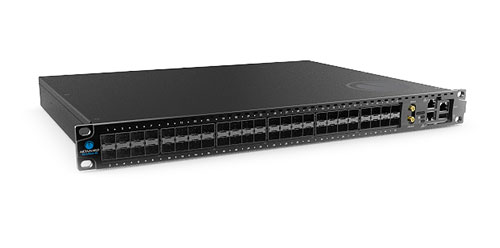 Metamako MetaMux 48
48 SFP/SFP+ front-panel ports from 100M to 11.3Gbps
Full signal recovery, regeneration and conditioning
Integrated, 160-port, layer 1 switch connects front panel ports, multiplexing module and management platform
Configurable as multiple many-to-one multiplexers
10GbE and 1 GbE supported
Programmable FPGA for user customisation
Altera Arria 10 FPGA
Upgradable with GPS and OCXO or Rubidium clocks