NVIDIA Jetson Xavier NX DEVELOPER KIT
The NVIDIA Jetson Xavier™ NX developer kit includes a power-efficient, compact Jetson Xavier NX module for AI edge devices. It benefits from new cloud-native support and accelerates the NVIDIA® software stack in as little as 10 W with more than 10X the performance of its widely adopted predecessor, Jetson TX2. The capability to develop and test power-efficient, small form-factor solutions with accurate, multi-modal AI inference opens the door for new breakthrough products.
Update 15-Nov-21: Stock of these units is in very short supply due to on-going chip shortages and continued global logistics and shipping issues. XENON works closely with our suppliers to overcome these issues, however, please be aware there may be extended lead times on these units. Use the Quote Request form to enquire about current lead times and pre-order to secure your allocation. 
Get a Quote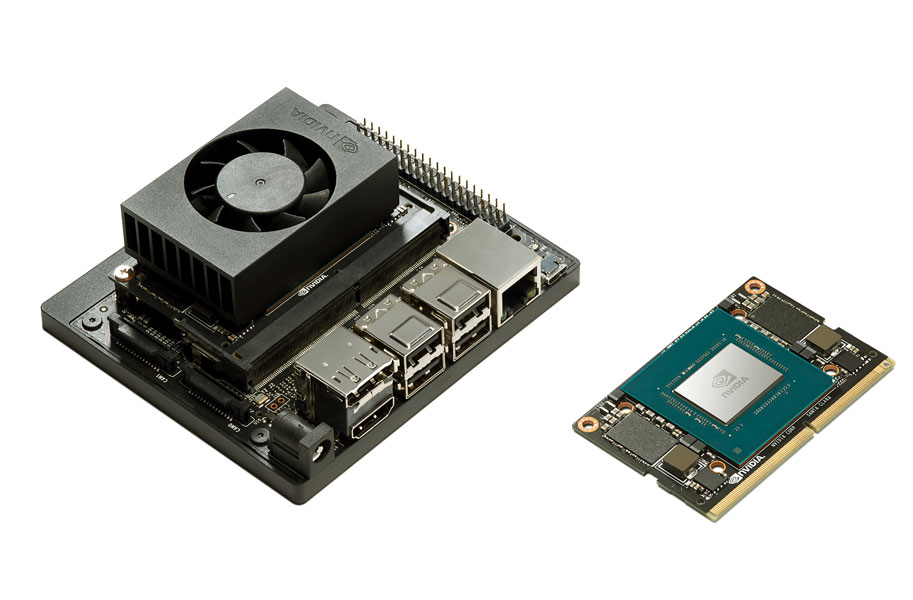 NVIDIA Jetson Xavier NX Developer Kit
NVIDIA Jetson Xavier NX Developer Kit
NVIDIA Volta architecture with 384 NVIDIA CUDA® cores and 48 Tensor Cores
NVIDIA Jetson Xavier NX Developer Kit
6-core NVIDIA Carmel ARM® v8.2 64-bit CPU 6 MB L2 + 4 MB L3
Specifications
DL Accelerator
NVIDIA Jetson Xavier NX Developer Kit
2x NVDLA Engines
Specifications
Vision Accelerator
NVIDIA Jetson Xavier NX Developer Kit
7-Way VLIW Vision Processor
NVIDIA Jetson Xavier NX Developer Kit
8 GB 128-bit LPDDR4x 51.2GB/s
NVIDIA Jetson Xavier NX Developer Kit
microSD (card not included)
Specifications
Video Encode
NVIDIA Jetson Xavier NX Developer Kit
2x 4Kp30
6x 1080p60
14x 1080p30 (H.265/H.264)
Specifications
Video Decode
NVIDIA Jetson Xavier NX Developer Kit
2x 4Kp60
4x 4Kp30
12x 1080p60
32x 1080p30 (H.265) 2x 4Kp30
6x 1080p60
16x 1080p30 (H.264)
Specifications
Connectivity
NVIDIA Jetson Xavier NX Developer Kit
Gigabit Ethernet, M.2 Key E (WiFi/BT included), M.2 Key M (NVMe)
NVIDIA Jetson Xavier NX Developer Kit
HDMI and DP
NVIDIA Jetson Xavier NX Developer Kit
4x USB 3.1, USB 2.0 Micro-B
NVIDIA Jetson Xavier NX Developer Kit
GPIOs, I2C, I2S, SPI, UART
Specifications
Mechanical
NVIDIA Jetson Xavier NX Developer Kit
103 mm x 90.5 mm x 31 mm