NVIDIA RTX™ A5000
NEW
Spearhead innovation from your desktop with the NVIDIA RTX™ A5000 graphics card, the perfect balance of power, performance, and reliability to tackle complex workflows. Built on the latest NVIDIA Ampere architecture and featuring 24 gigabytes (GB) of GPU memory, it's everything designers, engineers, and artists need to realise their visions for the future, today.
Get a Quote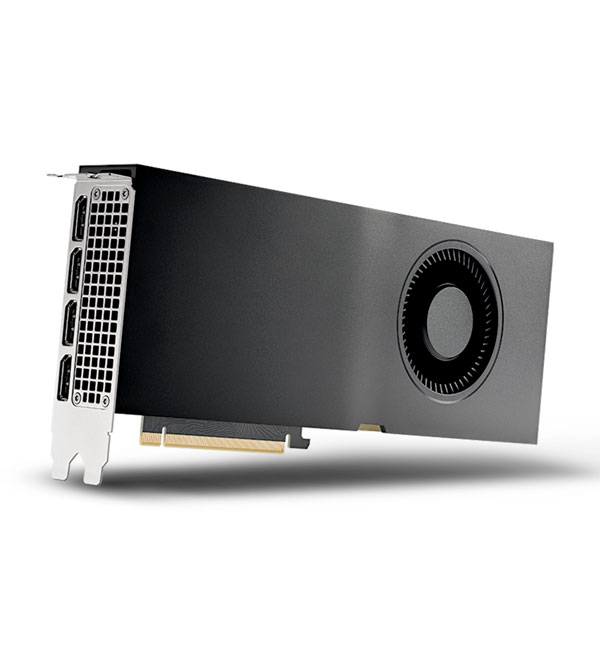 Specifications
GPU Memory
NVIDIA RTX A5000
24GB GDDR6 with error-correction code (ECC)
Specifications
Memory interface
Specifications
Memory bandwidth
NVIDIA RTX A5000
288 GB/s
Specifications
Display Ports
NVIDIA RTX A5000
4x DisplayPort 1.4*
*Display ports are on by default for RTX A6000. Turn display ports off when using vGPU software.
Specifications
Max Power Consumption
Specifications
Graphics Bus
NVIDIA RTX A5000
PCI Express Gen 4.0 x 16
Specifications
Form Factor
NVIDIA RTX A5000
4.4" (H) x 10.5" (L) dual slot
NVIDIA RTX A5000
2-way low profile (2-slot and 3-slot bridges)
Specifications
vGPU Software Support
NVIDIA RTX A5000
NVIDIA Virtual PC (vPC) and Virtual Applications (vApps), NVIDIA RTX vWS, NVIDIA Virtual Compute Server
Specifications
vGPU Profiles Supported