NVIDIA RTX™ A6000
NEW
The new NVIDIA® RTX™ A6000 GPU with the new Ampere architecture delivers the most significant GPU advances in a decade. The RTX A6000 brings powerful ray tracing, deep learning and advanced shading capabilities to boost your productivity. With NVLink®, you can easily combine two RTX A6000's to scale your processing power for up to 100 GB/s of bandwidth and total 48GB memory, giving you the ability to tackle the largest jobs in rendering, virtual reality, visualisation and AI.
XENON will be delivering bespoke solutions based on the PCIe Gen4 with the RTX A6000 in both Workstation and Server form factors.
Get a Quote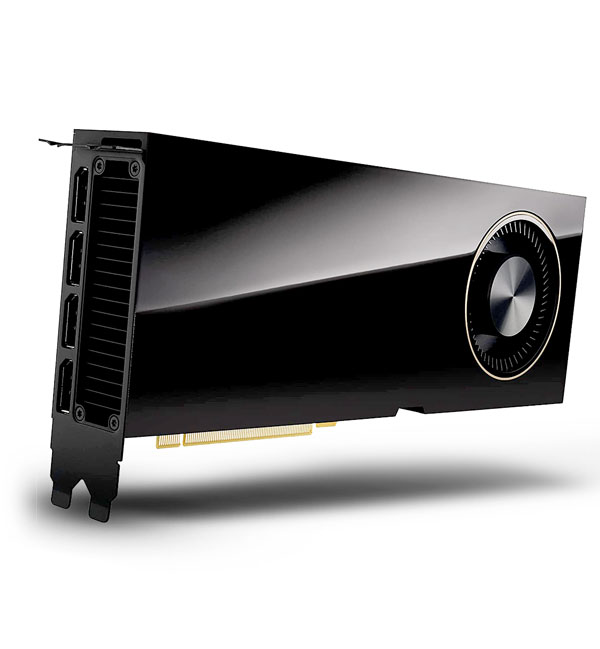 Specifications
GPU Memory
NVIDIA RTX A6000
48 GB GDDR6 with error-correcting code (ECC)
Specifications
Memory interface
Specifications
Memory bandwidth
NVIDIA RTX A6000
768 GB/s
Specifications
Display Ports
NVIDIA RTX A6000
4x DisplayPort 1.4*
*Display ports are on by default for RTX A6000. Turn display ports off when using vGPU software.
Specifications
Max Power Consumption
Specifications
Graphics Bus
NVIDIA RTX A6000
PCI Express Gen 4.0 x 16
Specifications
Form Factor
NVIDIA RTX A6000
4.4" (H) x 10.5" (L) dual slot
NVIDIA RTX A6000
2-way low profile (2-slot and 3-slot bridges) Connect 2 RTX A6000
Specifications
vGPU Software Support
NVIDIA RTX A6000
NVIDIA GRID®, NVIDIA Quadro® Virtual Data Center Workstation, NVIDIA Virtual Compute Server
Specifications
vGPU Profiles Supported
NVIDIA RTX A6000
1 GB, 2 GB, 3 GB, 4 GB, 6 GB, 8 GB, 12 GB, 16 GB, 24 GB, 48 GB