Thank You!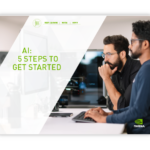 Thank you for requesting the How To Get Started in AI eBook.
The report has also been emailed to the address you supplied in the Download form, if you don't receive it please check your junk or spam folder. If you think you might have mis-typed your email address, please contact us and we can arrange for it to be emailed to you again.
Learn More about XENON AI Solutions
XENON offers a range of AI services, including consultation, POC's and a full stack of hardware. Whether you want to start with a small workstation or a cloud based solution, or you're ready for a more robust data centre solution – XENON can help you navigate the range of options and map a course to efficiently and quickly ramp up your AI utilisation.
Learn more about AI services, including AI Consulting, AI Managed Services, AI Infrastructure and AI Proof of Concept projects.
Contact us today to speak to a solutions architect about your requirements.
Talk to a Solutions Architect