High Performance Computing Services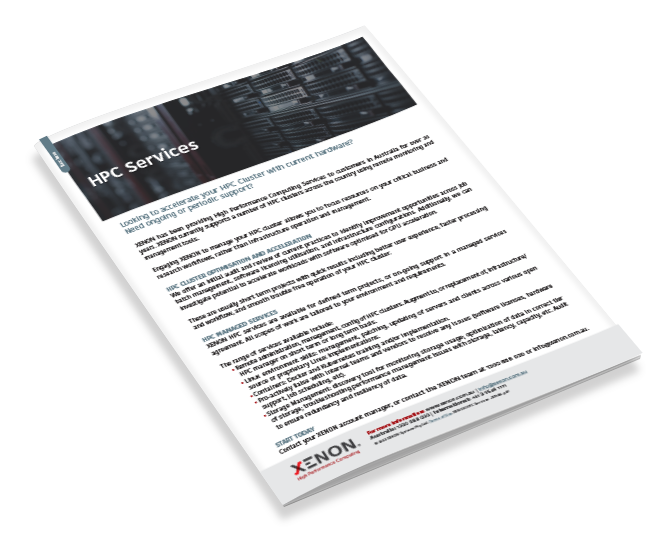 Click on the thumbnail to view the PDF.
High Performance Computing systems are complex highly tuned environments that rely on harmonious peak performance of all components to maintain consistently high cluster processing. XENON Systems has a proven track record in providing managed services and on-going support for High Performance Computing (HPC) systems. Whether XENON has built and delivered the system, or if it was provided by a third party, XENON's extensive experience across all types of CPU, GPU, storage and fabric allow us to provide an expert level of managed services and support for your HPC Cluster – whether on-premises or in the Cloud.
Each HPC system is unique, and similarly, XENON provides a tailored managed services solution to meet your needs. XENON will cover all issues to create a managed service contract that complements your team and provides the SLA's and depth of expertise you need to optimise the operation of your HPC cluster.
Moving to a managed service for your HPC Cluster can:
Ensure greater up-time and efficient operation,
Provide on-demand as well as preventative maintenance and service,
Pro-actively monitor cluster performance and optimise your environment,
Work hand-in-hand with your team, expanding available skillset for HPC projects,
Pro-actively plan upgrades across the cluster in CPU, GPU, storage and fabric.
Our customers experience immediate benefits from XENON HPC Services, including:
Freeing up key resources and personnel to focus on core business, rather than cluster management,
Ensuring continuous support for end user researchers and staff so everyone can operate at peak capacity,
Enjoying on-demand access to HPC and AI expertise when required,
Maximising HPC cluster efficiency and ensuring the environment is running at peak performance.
Engagements are tailored to each customer's environment and business requirements, and agreements can be project based, on-going, or based on a block of support hours which can be accessed as needed.
Talk to XENON today to unlock the value in your HPC Cluster.
Industry Specific Experience
XENON also has over 20 years of delivering and supporting HPC Clusters in a variety of industries across Australia and Asia-Pacific. This experience lays a solid foundation for XENON to support a range of specific software stacks that are used in these industries and understand how these software solutions interact with the HPC infrastructure.
Research and Education
Health and Medical research (Life Sciences)
Environment and Natural Resource Management (Earth Sciences)
Physics, Chemistry and Material Sciences
Universities
Financial Services
Government agencies (including Defence)
Oil and Gas
Utilities (including Telcos)
Proven Deployments
Read two of our case studies about HPC Services:
In addition to these two public case studies, XENON has a large number of reference customers, contact the XENON team to learn more and have any of your questions answered.
XENON Cloud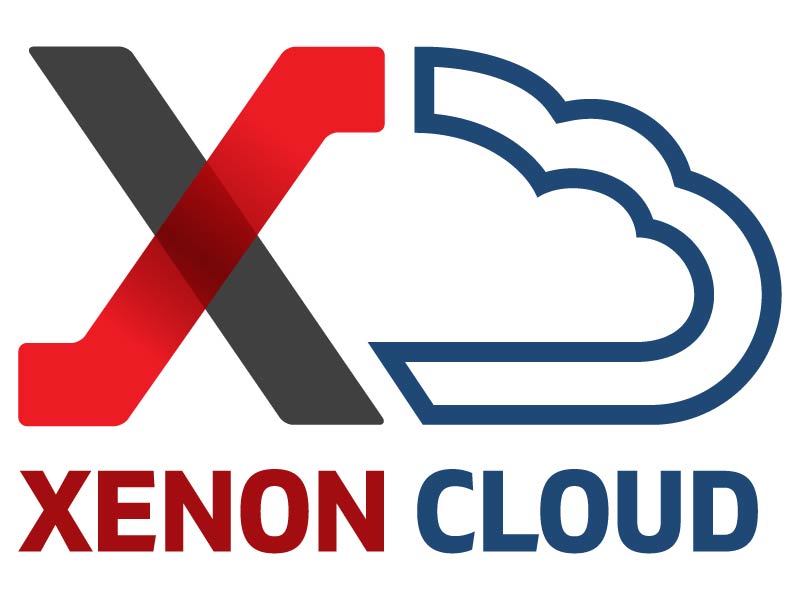 XENON can deliver an autoscaling HPC cluster ready for your applications in under 30 minutes!
XENON HPC Services assist customers to build out HPC Cloud solutions, leveraging 25+ years of HPC experience into the new HPC-ops world.
Recent solutions include:
Short term clusters using traditional HPC architecture in public cloud;
Burstable, headless HPC architecture using scripts and APIs to drive cloud compute and contain costs in public cloud;
Consumption based opex, but on-premises HPC infrastructure to support long-term base load HPC/AI/DL applications – with managed services from XENON Cloud team and 60% or more savings over long term cloud usage;
Hybrid cloud utilising XENON Cluster Stack to enable seamless transport of workloads between on-premises and public cloud environments.
Talk to XENON, free yourself from traditional HPC constraints, and explore how an agile HPC/AI/DL-as-a-Service public, private or hybrid XENON Cloud solution can benefit your organisation.
Discover more about XENON Cloud >>
Download the XENON Cloud Services brochure >>


XENON Cluster Stack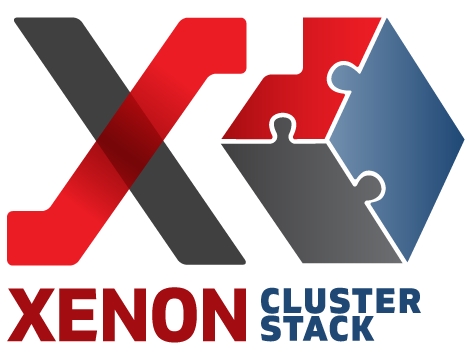 XENON has developed a bespoke, containerised cluster stack to make updating and expanding HPC Clusters easy and as non-disruptive as possible. XENON provides the XENON Cluster Stack to our HPC Managed Service customers at no charge. Learn more about the XENON Cluster Stack here.  Download the XENON Cluster Stack brochure here.
XENON Cluster Stack Functional Architecture Diagram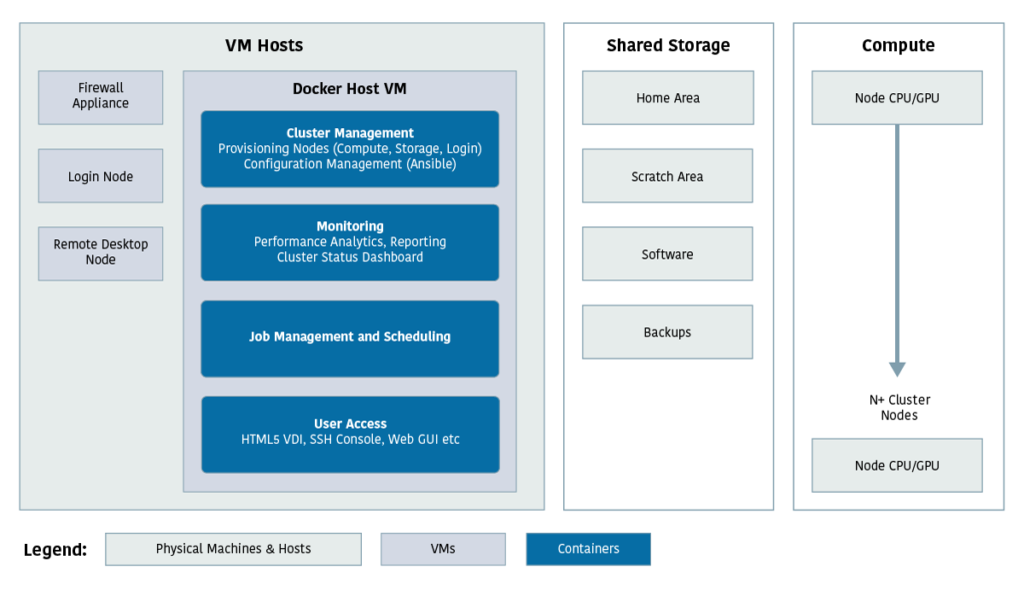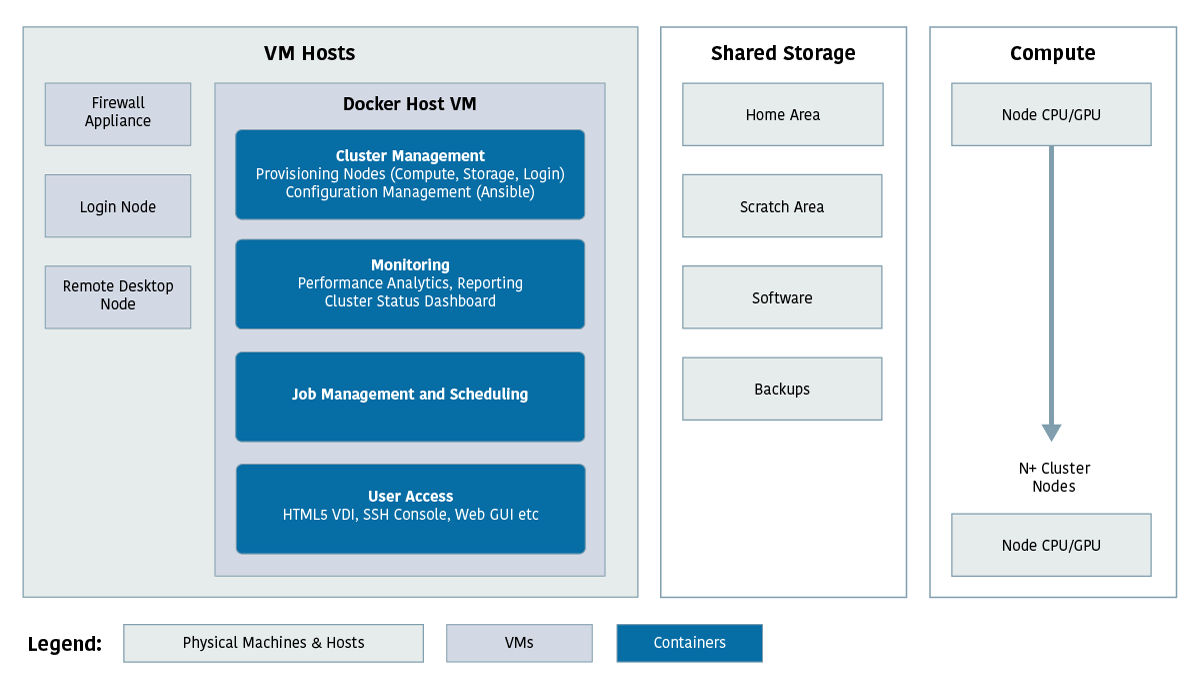 Explore Managed Services for your HPC Cluster
XENON HPC managed services can transform your on-premise infrastructure into a cloud like on-demand service. Contact XENON today to explore how managed services can work for you.
Get a Quote