Enquire about this solution
XENON PlatiNAS
XENON's extensive range of rackmount storage server solutions provides exceptionally high storage density while leveraging high-efficiency power to maximize performance-per-watt savings to reduce TCO. Delivered with preinstalled OpenFiler NAS or Windows Storage Server software, XENON PlatiNAS Server is a ready-to-go easily configurable NAS box.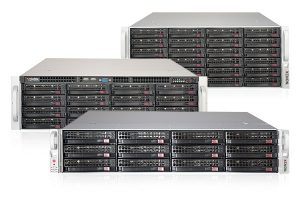 The PlatiNAS product line includes 2U, 3U, and 4U form factors servers. Offering up to 93% power efficiency, cooling redundancy, power redundancy, hot-swappable drive bays and fans, PlatiNAS storage servers are designed to meet the requirements of today's sophisticated enterprise data centres and high performance applications with high scalability and reliability.
Contact us today to build your PlatiNAS solution with capacity and features tailored to your requirements.
Talk to a Solutions Architect