Storage is at the core of an effective IT infrastructure to deliver the desired system performance. Without storage that meets needs of capacity, speed and cost, the overall system deliverables will be compromised and user experience negatively impacted.
Storage is typically an under serviced area due to the complexity of the underlying data workflows, rapid demands for more storage, and users who adopt a "digital hoarding" mentality to their data. By understanding the data workflows, XENON can deliver a storage architecture that achieves a better balance of capacity, performance and cost for current needs while also mapping future growth strategies and investments.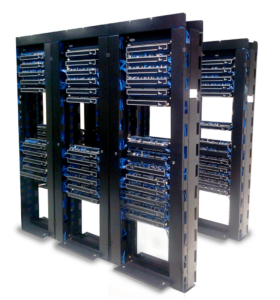 Today there are more storage vendors and more storage technology options than every before. Fortunately, XENON has experience building solutions in all traditional as well as new storage technologies – From SSD, Flash and NVMe, to hard drives, magnetic tape, varieties of cloud and object (private, public and hybrid), and software defined storage.
The XENON team is also trained and certified in leading storage and data protection solutions, allowing us to provide on-going support and managed services for your data infrastructure.
Ultimately, an effectively storage solution must meet your core business objectives and deliver:
Timely access to data,
Data protection and secure storage,
Resilience with no single points of failure, and
Scale and grow with your business without fork-lift upgrades.
A XENON data solution considers your data workflow, time horizon for retention, data management and backup policies and data location/sovereignty. XENON will create a unique solution from best-of-breed options that is tailored to fit your exact needs now and into the future.
XENON has deployed many storage solutions from stand alone storage arrays through to integrated high performance computing environments and large scale archive storage systems. From 10 TB to 40+ PB of storage, each solution is tailored to our customer's specific requirements to effectively meet needs today and into the future.
Tired of a one-size fits all approach to your storage infrastructure? Talk to a XENON storage specialist today.
Talk to a Solutions Architect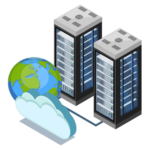 File, Object, Block, Cloud
The core of data storage solutions divide into file, block and object (both on-premises object and cloud object). Newer systems combine file and block in a single file system, and can be deployed on-premises, in the cloud or in hybrid architectures.
XENON has many storage solution in our portfolio, as each one has strengths and weaknesses and it's important to ensure the right solution is deployed for the right workloads – both today and into the future.
XENON deploys high performance solutions from leading vendors, as well as open source solutions such as CEPH and open source NAS which are the basis of the XENON PlatiNAS range. For all solution, XENON provides extensive support and provisioning services to ensure your solution work as expected, when delivered.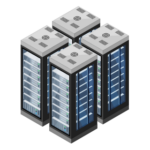 File Systems and Software Defined Storage
Software defined storage (SDS) allows for high performance data storage systems to be built on commodity hardware. Innovations in performance from use of SSDs, storage class memory and QLC flash have changes the performance/cost profiles of storage dramatically.
XENON often provides managed services for software defined storage solutions, simplifying the complexity of managing various vendors in the SDS stack.
SDS solutions can also be deployed in the major cloud providers (AWS, Azure, GCP) utilising NVMe nodes providing high performance storage environments for cloud applications. XENON experience in HPC, cloud and SDS assists customers to deploy the complex and expensive NVMe nodes in the most practical and efficient manner.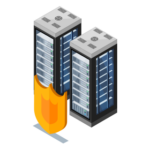 Data Management, Backup and Protection
Data storage solutions are not complete until backup and data protection has been included.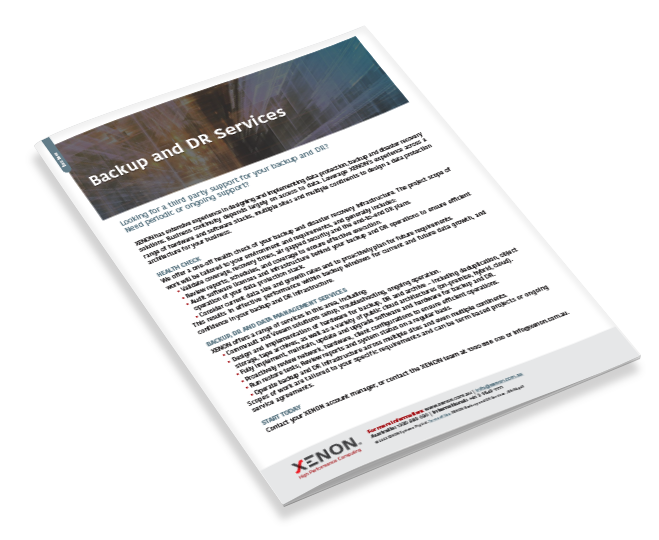 Download the XENON Backup and Data Protection Services Brochure
XENON delivers a range of data protection solutions, architecting data movement, replication and geo-spread of data to ensure full protection across your IT infrastructure no matter how large your data set becomes.
XENON also provides managed services for data protection, testing restore points, ensuring backup windows are hit and data is secure and protected.
With XENON managed services for data protection, customers can ensure that critical data is available, protected, and safe.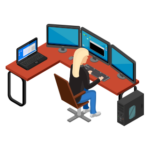 Services
XENON provides managed services and one-off project services for all your storage requirements. Examples of recent projects include:
Designing storage environment, including re-purposing old storage and planning lifecycle of new storage;
Day-to-day management of backup solution, testing restore points and backup windows;
Implementing archives, migration to new archive and HSM management systems;
Managing HPC storage environments;
Implementing hybrid cloud data solutions and cross cloud data management strategies;
Project managing massive data archive systems, including migration and upgrade.
Talk to XENON today, we can unravel your data issues and elevate your data practices.
Start your storage solution with XENON today: