Storage - Data Management, Backup, Archive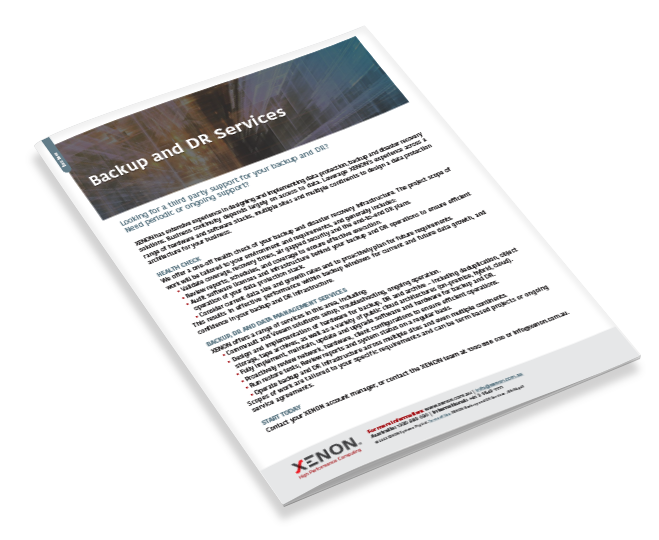 Download the XENON Backup and Data Protection Services Brochure
For organisations of all sizes, significant value and IP resides in their Data. How it is managed, safe-guarded, and archived is critical for preserving business value as well as business continuity.
Data Management is a category of solutions for data protection, back-up, archive, and also data optimisation to minimise underlying storage infrastructure costs.
XENON works with organisations of all sizes to implement data management solutions. XENON does this across a range of storage options, as well as data protection options both hardware and software driven. Critical decisions around:
Location of data (centralised, remote offices, hub-and-spoke arrangements etc),
Type of data being protected (structure, unstructured),
Retention time-frame,
Backup windows and time to process,
Off-site, air-gap and redundancy considerations for protection against intrusion, malware and ransomware,
Legislative requirements and data sovereignty,
Retrieval and recovery requirements.
By understanding your data workflow and requirements, XENON can tailor a data protection strategy, hardware and software solution that will meet your objectives and provide lasting protection for the valuable data in your organisation. A well crafted strategy will allow your data to be protected, with a predictable cost base and growth plan as your data grows.
XENON also offers managed services for on-premise, hybrid cloud and remote infrastructures, making deploying a fully operational data protection solution easy.
Download our Backup and Data Protection services brochure, browse this section to learn more, or contact us today to discuss your requirements.
Talk to a Solutions Architect