Data Management, Protection and Backup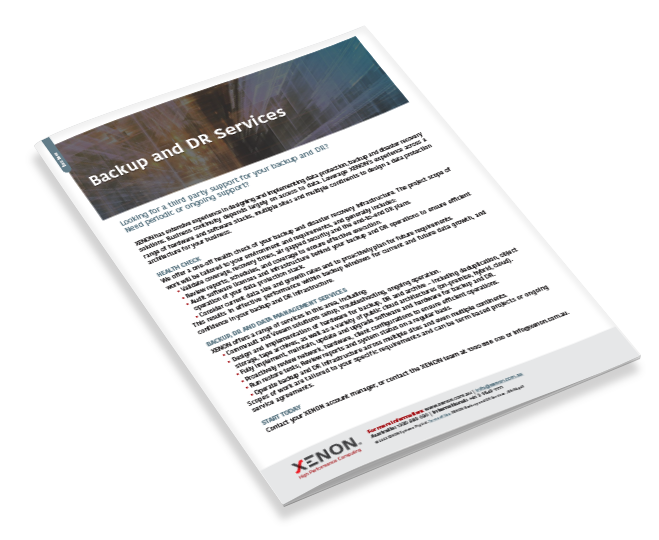 Download the XENON Backup and Data Protection Services Brochure
XENON has extensive experience across a wide range of data protection technologies and architectures including disk-to-disk, disk-to-cloud, and cloud-to-cloud. XENON is experienced in the issues of deploying solutions across virtualised, or partially virtualised environments.
We are happy to discuss with you what will work best for your environment and data workflow. Selecting the best backup and archive solution is based on a number of factors including:
Storage costs
Volume of data and rates of change
Ease and speed of data recovery required
Available backup window
Data retention requirements (e.g. complying with legal statues)
Estimated data growth
Requirements for off-site backups.
Based on a thorough understanding of your requirements and analysis of the factors above, XENON can advise and tailor a specialised backup solution for your current and future business needs.
Backup and DR Health Check
We offer a one-off health check for your back-up and DR infrastructure. In this project, we will validate coverage, recovery times, air-gapped security and DR plans. Review reports, schedule, software licenses and infrastructure behind your back-up and DR operations. This will ensure effective performance within back-up windows for current and future data growth.
Other Backup DR Services
Skill set across Commvault and Veeam solutions, as well as a variety of underlying infrastructure stacks (on-premise, hybrid, cloud). Assistance in set-up and troubleshooting installations and configurations.
Fully implement, maintain, update and upgrade software and hardware for backup and DR.
Pro-actively review network, hardware, client configurations to ensure efficient operations.
Run restore tests; Review reports and system status on a regular basis.
Operate back-up and DR infrastructure across multiple sites and even multiple continents.
XENON backup portfolio
XENON represents the leading brands and technologies, including:
Learn more about these leading vendor solutions. 
Talk to a Solutions Architect