Learn How To Get Started in AI
The Quick Start Guide to Artificial Intelligence!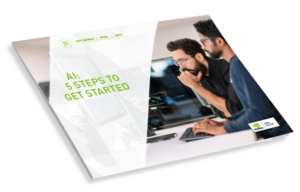 Looking to get started in AI? To realise its full potential, it's essential to know where and how to implement deep learning in workflows. Additionally, you'll want access to the latest techniques, software and hardware that can speed up model training and development.
This free eBook from XENON and NVIDIA has the answers to these questions and more. NVIDIA created modern AI, and in this eBook they reveal their secrets to implementing AI, making it easy and achievable for any organisation.
XENON and NVIDIA can help. Whether you're building code, experimenting with projects, or rolling out deployments across your organisation, we have the resources you need to get started in AI.
Learn the Key Steps to Execute an AI Strategy
Implementing Artificial Intelligence across an organisation can appear daunting, but it doesn't have to be. XENON and NVIDIA have compiled the top steps and resources needed to have a successful AI implementation and present it in this short eBook. Follow these five steps and get started on your AI journey today, following in the footsteps of pioneers in the field you know you're on the right track.
Please complete the form and the eBook with be emailed to you immediately.
Looking for More?
Learn more about XENON's Artificial Intelligence services.
Take a look at NVIDIA's new DGX A100 server – the universal AI infrastructure platform for data analytics, training and inference.
Want to start now? Contact us to discuss any other requirement you have on Artificial Intelligence.
Request Your Copy of the eBook