Mediaproxy Compliance Logging and ASI Monitoring Solutions
Since 2001, Mediaproxy has pioneered in providing leading solutions for broadcast compliance logging, content monitoring and analysis. Mediaproxy continuously innovates at the highest level, offering the most advanced products to broadcasters, IPTV, MSOs, cable and satellite providers around the world. Its highly reliable and extensible LogServer platform provides 24/7 multi-­channel recording, live monitoring and transport stream analysis of broadcast sources and real-­time data. Contents may be reviewed and managed 'long after the event' for regulatory and commercial compliance requirements as well as competitive analysis.
Mediaproxy offers solutions for Broadcasters, Government Media Monitoring and Cloud users.
Broadcasters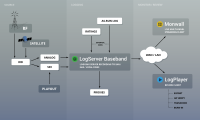 Mediaproxy offers Broadcasters a reliable, efficient and scalable platform for their compliance logging and content monitoring requirements. LogServer has a comprehensive feature set which provides SD and HD inputs options ranging from analog, SDI to ASI and IP. Its flexible architecture is built to accommodate regulatory changes very quickly to ensure full compliance at all times. LogServers can be deployed centrally or at remote sites whilst maintaining transparent access to all servers via its powerful linked environment, using the leading edge LogServer administration interface.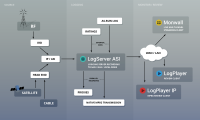 In growing multi-channel environments, LogServer ASI offers new opportunities via cost effective ingest from IP sources including full support for multiple language tracks, Dolby 5.1 decoding, closed captions and Teletext subtitles, EPG and As-run metadata. Mediaproxy seamlessly integrates with playout centres, DTH platforms, Cable and Satellite providers and teleports.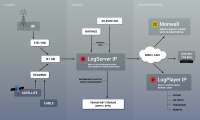 For applications that require RTSP streaming, transport stream recording, QoE monitoring, multichannel review and live multiviewing, LogServer IP offers a scalable platform. LogServer IP provides a flexible feature set at a fraction of the cost of traditional solutions. Available as software only or full turnkey system, LogServer comes bundled with unlimited access to the leading edge LogPlayer IP review client and powerful Monwall multiviewer. LogServer is ideal for adding cost effective logging and confidence monitoring at various parts of the transmission chain. Highlights include:
Support for all PAL, NTSC, DVB and ATSC broadcasts
Ideal for Networks, Cable and Satellite providers
Scalable and flexible architecture to accommodate regulatory changes
For all compliance and repurposing requirements
Government/Media Monitoring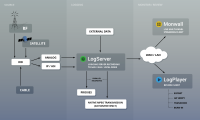 Mediaproxy offers government institutions and media monitoring companies a reliable and flexible 24/7 recording platform. More and more federal and state governments rely on flexible architecture of LogServer to log and monitor broadcasts for news and event monitoring. Ranging from recording parliamentary sessions to tracking political advertising to keyword monitoring, Mediaproxy's comprehensive application suite delivers cost effective solutions. Highlights include:
Accurate news and media monitoring
Caption keyword monitoring
Extensive extract, transcoding and burn-in engine
Search across program guides, captions and custom meta data
Handsard integration
Cloud Users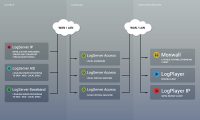 Mediaproxy provides customers with a highly cost-effective option for cloud based media access, remote backup and disaster recovery options for a single or across a network of LogServer systems. Users are able to transparently access all recorded proxy and native media content and meta-data via the leading edge LogPlayer user interface including live streaming. Employing LogServer Access as a scalable platform to expand to hundreds of channels on a single virtual machine offers cost-effective remote workflows. Highlights include:
Mediated and secure access to LogServers for internal and external user groups
Scalable to hundreds of channels on a single server
Ideal for redundancy or deep archiving to EC2 or Azure cloud-based VMs
Highly cost-effective solution for backup and deep archiving
For more information visit www.mediaproxy.com.
Mediaproxy is an associate member of the XENON Technology Group.