Windows 95, Netscape Navigator, Pentium Pro, MP3, Zip Drive and Wolfenstein 3D.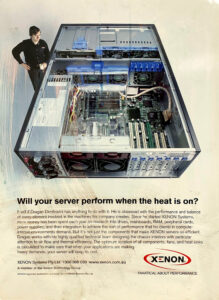 The 1990s were a defining era for personal computing and a great time to be alive for a naturally entrepreneurial and computer savvy young person. It was around this time that a 15 year old Dragan Dimitrovic first started selling computer hardware. Back then, a PC could sell for up to $5,000, but Dragan recognised he could build them for much less at just $3000.
"I enjoyed playing with computers and I realised what I knew about them was unique, so I learnt how to monetise that!"
These custom built PCs would be on-sold to a strong network of friends and family each time for a $1000 profit – not bad for a high school student. What started out as a hobby soon turned into a genuine business making over $100,000 in revenue per year and dictating Dragan be the only teenager at his high school with the need for a mobile phone and business cards.
This venture required Dragan to become a regular at computer swap meets, always buying components and parts. These weekend trips eventually lead him to going directly to part suppliers, cutting out the middle men at the swap meets and helping him to see the value in following back the supply chain and developing strong direct relationships.
Despite his product range, Dragan wasn't the technical lead but focussed more on the business and sales side of the operations while his partner at the time built the products. It was a partnership that wouldn't continue, but allowed an entrepreneurial young thinker to see the possibilities in computing.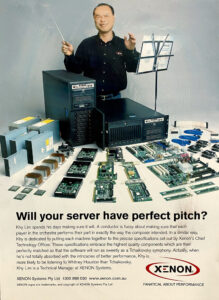 It wasn't until his final year of high school when considering university offerings that Dragan decided to go further into computing. Enrolled in an Information Management degree at Melbourne University, Dragan set about rounding out his technical capabilities. In his final year of study he secured an internship with a major networking specialist Access One.
"The company I was working for was buying PCs and I could see how much they were paying! I knew I could build them cheaper, so I quit my internship and started supplying them!" That first big sale would create the foundations for XENON, with Access One becoming their first client.
"On that job I had learnt how to put them together by pulling them apart. It was a great lesson.' says Dragan "Even today, whenever I am looking at things, I ask how the system is made, break it down into small parts and then look at who is making what and then create our supply relationships and alliances from there. It taught me to look at the whole ecosystem to find the best solution to solve a problem."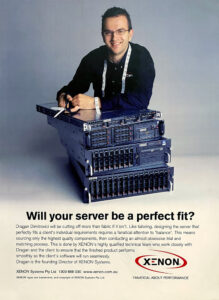 Now, over twenty years later, this attitude underpins the service that XENON has become known for – solving complex problems with custom solutions. "Customers give us the ideas, they tell us what their problems are – we just ask ourselves if we can partner with someone to solve it and, if not, can we take the lead and develop something new? Opportunity always comes from stepping outside your comfort zone."
The future of the XENON Group will see more business ventures launched using the same ethos that has earned them reputation as global high performance computing leaders. These plans include Investing in new tech startups across Australasia and running an incubator that looks to help emerging computing entrepreneurs achieve their dream.
"Our success comes down to people. If you surround yourself with the right people they allow you to step up to the next level. Most of the companies in the Group are from great ideas someone had, we've just invested in them and commercialised it" explains Dragan.
XENON's focus for the future is on embracing new technologies as they emerge.
"It's about evolving continuously, understanding there is always room to improve, taking on the complex and always looking to do great new things."