The New Third Generation EPYC™ 7003 Series Processors Now Available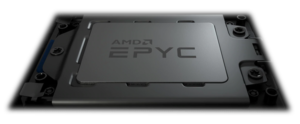 The new AMD Third Generation EPYC 7003 Series Processors (aka "Milan") deliver a very high performance server CPU with a range of options to suit specific workload requirements. These new EPYC 7003 Series is now available from XNEON.
Exploiting the "Zen 3" 7nm architecture, these new EPYC 7003 Series Processors provide:
Configurations from 8 to 64 cores (with 16 to 128 threads respectively),
Up to 32MB L3 cache per core,
Clock speeds up to 3.7Ghz base and 4.1Ghz boost (in the 8 core configuration),
PCIe Gen 4.
The Third Generation EPYC 7003 series is fully featured across the options, allowing for servers to be configured to specific workload requirements. The various applications include
Hyper-converged Infrastructure (HCI),
Virtualisation and Virtual Desktop Infrastructures (VDI),
Database workloads,
High Performance Computing.
These Third Generation EPYC Processors deliver increased processing power, cache and faster connectivity. XENON is currently building server configurations for customers based on these new Third Generation EPYC processors – contact the XENON team today to discuss your specific requirements and get a bespoke server for your needs.
Talk to a Solutions Architect