GPU Starter DevKit with OpenACC

The GPU Starter DevKit with OpenACC is a personal supercomputer built for developers looking to supercharge the performance of your C/C++/Fortran application with GPUs. Powered by an NVIDIA® Tesla® K20 GPU Accelerator and PGI OpenACC compiler, the GPU Starter DevKit lets you leverage OpenACC to do the hard work, so you can accelerate applications on the GPU with minimal code change. The Starter DevKit has everything you need for a fast and easy on-ramp to GPU computing — all for under $5,495 (ex GST).
Fast and Easy On-ramp to GPUs with OpenACC
Pre-installed libraries for quick performance boost
Leverage OpenACC directives compiler to do work for you with minimal code change
Everything You Need in the Box under $5,495
Pre-configured workstation with Tesla K20 GPU accelerator and PGI OpenACC compiler
Personal Supercomputer Purpose-Built for Developers
Same GPU accelerator powering some of the world's fastest supercomputers
Tesla K20 GPU accelerates applications up to 10x faster compared to CPU
Nitro E8 Personal Supercomputer
Accelerate your scientific and technical computing with XENON's Nitro E8 Personal Supercomputer featuring Nvdia's Tesla K20 GPU. Now developers and researchers can enjoy faster performance and more accessibility with the latest generation of Tesla GPUs based on NVIDIA Kepler™, the worlds fastest and most efficient high performance computing architecture. So speed up your application by up to 10X!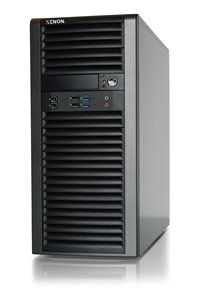 SPECIFICATIONS:
Intel® Xeon™ E5-1620v2 3.7 GHz Quad-Core Processor – 10MB Smart Cache, HT, Turbo
Nitro E8 Workstation Mainboard featuring 2x PCle3 x16 Slots, SATA3, 2x Gigabit LAN and HD Audio
16GB DDR3-1600 ECC Registered Memory
NVIDIA® Tesla K20 5GB GDDR5 ECC GPU Computing Processor Card
WD 1TB Se SATA III 6Gb/s 64MB Cache Hard Disk Drive
Pioneer DVD-RW 12X/24X SATA Optical Drive
XENON 360 Black Ultra Quiet Mid Tower Workstation Case With 500W PSU