Immersion Cooling Put to the Test
XENON has partnered with Interactive and Vertiv to showcase the cooling power of immersion cooling.
Interactive has installed their first immersion cooling tank at their data centre in St Leonards, and XENON supplied a test server and ran a series of load testing activities to demonstrate how the server performed when under load. A heat imaging sensor was used as well as close monitoring of the tank temperatures.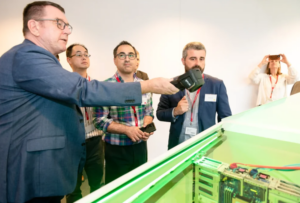 The growing significance of artificial intelligence (AI), cloud compute and high-performance compute (HPC) has driven the need for businesses to maximise efficiency and return on investment of their HPC platforms, without compromising on reliability or power.
In addition to supporting HPC solutions that can't be cooled by air alone, the immersion cooling solution will alleviate the cost of data centre cooling and its impact on the environment.
By 2025, 50 per cent of Chief Information Officers will have performance metrics tied to the sustainability of the IT organisation, as business leaders look to reduce costs and improve efficiencies, according to Gartner's list of Top 10 Technology Trends for 2023.
Visibly Effective
The infrared camera was showing an even disbursement of heat, and the immersion cooling environment allows the dual AMD EPYC 7642 CPUs and the AMD MI210 GPUs to run at maximum performance. For this test server, hammering it with intensive computational testing benchmarks.
The CPUs were consistently performing at 298W, just shy of 300W maximum and hitting their clock limits at 3.3GHz. Impressively, the CPUs stayed between 50-55C under full load, where in air cooled systems the CPU can get to 90C, with the heat triggering speed limiting, CPU protecting protocols.
GPUs similarly run in the immersion tank at about 70C, again about 30% lower than in air cooled systems.
Multiple Benefits
The immersion cooling demonstration has also highlighted the multiple benefits of this approach to cooling HPC systems.
With the lower temperatures, the system can run within 1-2% of maximum performance and speed, consistently and for long periods of time;
Lower temperatures promote longer component life; and
Removing moving parts for immersion further enhances reliability, removing potential points of failure.
Explore More About Liquid Cooling
Read our comprehensive survey of Liquid Cooling approaches in this paper, updated in February 2023.
Read all our Liquid Cooling blog posts.