Combining the Graphics of the Intel® Xeon® Processor E3 and the Power of the Intel® Xeon® Processor E5 on One System
Intel®'s Visual Compute Accelerator that brings 4K Ultra High Definition (UHD) media processing capabilities to Intel® Xeon® processor E5 platforms. The Intel® Visual Compute Accelerator card integrates three Intel® Xeon® E3 processors with Intel® Iris™ Pro graphics and Intel® Quick Sync Video media processing acceleration hardware into a PCIe* card form factor that fits into Xeon® processor E5-based servers. This card is specifically designed for High Definition (HD) and 4K UHD media processing with High-Efficiency Video Coding (HEVC) and High-Density Advanced Video Coding (AVC) transcoding solutions.
Product Benefits
Offer your cloud and communication service provider customers a customisable solution that can:
Offer fast transcoding for video into multiple formats and bit rates reducing the amount of time needed to process the video inputs
Reduce the amount of storage needed for those multiple formats through higher compression processing
Allow for real time transcoding into multiple formats from the stored format, reducing the need to store all possible media formats
Reduces the amount of network bandwidth needed (lower bit rates) at better video quality by compressing the video prior to transmission
The Intel® Visual Compute Accelerator is uniquely capable of supporting the different media processing solutions as it contains three Intel® Xeon® processor E3 v4 with Intel® Iris Pro Graphics P6300; placing these three processors on a Gen3 x16 PCIe card provides high throughput and low latency when moving data to and from the card.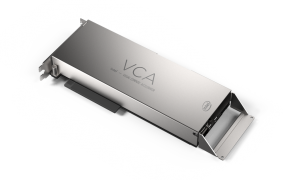 Product Features:
Supports HD and UHD 4K with HEVC and AVC transcodes
3x Intel® Xeon® Processor E3 v4 family with Intel® Iris™ Pro graphics
Up to 96GB of DDR3 memory
Full-length, full-height, double-width Gen3 PCIe x16 card
Compatible with Intel® Server Products S2600WT family and ecosystem partner systems
Talk to a Solutions Architect