Join XENON at eResearch 2021, from 11-15 October!
The innovative format of eResearch 2021 will deliver great sessions and networking opportunities online and in-person for the eResearch community.
From a record number of abstracts submitted there are some great conference streams which include topics around:
Future focused eResearch Strategy
People, workforce and communities
Skills and training
Analytics, software and tools
Infrastructure, platforms and capabilities
Discipline-based eResearch
A hybrid structure enables the event to go ahead safely and within COVID restrictions. The main site will be in Brisbane, with satellite events in the main capital cities. The sessions will be streamed online, and there will be networking and in-person activities and sessions (where permitted) in the main and satellite sites. Learn more about the conference format, the sessions, and register at the eResearch website here. Early bird registration closes on 24-Septmber!
XENON Presenting Tuesday 12-October
XENON will be presenting a interactive and informative Q&A session on Tuesday 12-October at noon: Transforming HPC Clusters with Modern Architecture and Configuration Management.
Cluster management tools and user interfaces are often the neglected layer between the users, their applications and the cluster hardware. But can a thoughtfully architected HPC cluster software stack enable modern cluster design, regardless of where the hardware lives?
Exploring the choice between cloud, on-premise or a hybrid infrastructure for HPC often revolves around comparisons of capabilities and costs – where critical factors are often unknown. This makes the decision one based on best assumptions of the time, with consequences that last years.
The real magic of modern HPC infrastructure at the cluster management layer frees one from vendor and/or cloud lock-in and allows for infrastructure flexibility, modular expansion. Resulting in an agile infrastructure that is composable and enables experimentation.
Join us for this thought-provoking Q&A session as Dr Werner Scholz and Jakub Szarlat from XENON push the boundaries of HPC infrastructure and explore the important role the cluster software stack plays for the user experience, management, and future proofing the whole system.
How can a modern software stack deliver flexibility, modular design, agile response to workloads?
What is the best way to enable hybrid cloud workloads?
Can on-premise clusters benefit from automation, scripting and an infrastructure-as-code approach?
The XENON team will answer these questions and explore how key decision vectors such as dataset size and location, workloads and applications, bandwidth and security all come in to play.
XENON at the Online Expo – Win an NVIDIA Jetson NANO each day!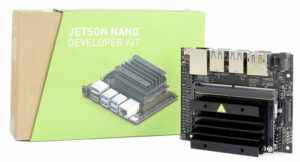 Stop by and say "Hi" at the XENON online conference booth, and go in our daily draw to win a NVIDIA Jetson NANO. The Jetson NANO delivers AI to the edge, in a form factor that makes it easy to integrate into a range of sensors, drones, or cameras.
One winner will be drawn at the end of each day, with winners announced at our booth the following day. NANOs will shipped to the winners the week after the conference. Entry is only available to eResearch conference attendees. Full terms and conditions and entry form will be available at our online booth.
Featured Solution Partners at eResearch
XENON will be featuring solutions from NVIDIA and Quantum at eResearch. Stop by and chat to the XENON team about the latest innovations from these two leading vendors in the eResearch Space.
Quantum
The latest StorNext 7 file system is the leading automated data management platform for high throughput, low latency workloads. StorNext 7 delivers high performance, data protection and scalability across NVMe, flash, disk, object and cloud – making it a universal filesystem for managing high performance application requirements.
Also new for 2021 is ActiveScale, Quantum's object storage system for private storage clouds. Combined with Quantum's industry leading tape libraries for density and reliability – Quantum provides a complete solution for data protection and archive in the research environment.
NVIDIA
NVIDIA's expanded portfolio of NVIDIA Networking (combining Mellanox and Cumulus) combined with DGX Systems provide a powerful, scalable solution for eResearch requirements. Exclusively at eResearch, stop by the booth and download new whitepapers exploring issues in data science and DGX scalability specifically for eResearch.
Learn more about DGX Systems – including the DGX Station A100 – the data centre in a box, and the DXG A100 – the universal AI server.
Book a Meeting
XENON HPC specialists will be available to meet during the conference. Book a meeting to discuss technology trends across eReseach and HPC, as well as new emerging technologies and interrogate the XENON experts about your technology road map and requirements.
XENON will also be launching the XENON Cluster Stack at eResearch. Developed and deployed over the last 2 years, the XENON Cluster Stack is designed to make HPC cluster management easy. Implemented with a modern cloud based infrastructure as code approach, containerisation and an agile architecture. XCS makes HPC clusters easy to maintain, up-date, and upgrade – and free from vendor lock-in and expensive licence fees. XCS is available exclusively in XENON HPC Clusters or as part of a XENON HPC Managed Service. Learn more about the XCS. 
XENON will be providing a limited number of $25 Uber Eats gift cards for each meeting so we can enjoy a virtual lunch or coffee together (limit four per company or meeting). Book in early to secure your meeting (and vouchers!). Eligible meetings can be during eResearch or in the weeks following.