In September 2020, the LTO Consortium announced the specifications for LTO9, achieving 18TB raw, and up to 45TB compressed (on a 2.5 to 1 ratio). We've been watching production timelines and speaking with the vendors, and there is quiet confidence that LTO9 drives and media will be shipping at the end of 2021. While originally planned for release in early 2021, COVID supply chain issues have pushed this timeline out. We will watch this and up-date this blog post with any changes.
LTO tape continues to be a versatile and widely used storage media for long term archive and also air-gapped storage to protect data and backups from Ransomware. LTO is used by large organisation and is the predominate storage media for long term archive storage in the Cloud. Tape continues to play this role as the long term cost is low, and once stored on a tape the data does not consume any electricity making LTO a very "green" storage media.
A record 114,079 petabytes tape capacity was shipped in 2019, according to the LTO consortium (as measured in compressed capacity). This is up significantly from 2018, which was the only year to show a decline year on year due to a manufacturing dispute between Sony and FujiFilm. The continual increase in capacity shipped is also matched by a continued annual decline in unit cartridges shipped.
The LTO Roadmap
The LTO Consortium made a compromise with LTO, balancing cost with increased capacity. Instead of doubling as it has every previous generation, this jump from LTO8 to LTO9 was an increase in 50% raw capacity, from 12TB to 18TB. In announcing LTO9 the consortium noted that this struck a balance between increased capacity, while minimising the cost for manufacturers of drives and media. This will make LTO9 drives and tapes cost competitive, and deliver very good economics in the cost per TB stored.
The overall LTO Roadmap continues to look strong well into the future, especially in comparison to hard drive technology. Hard drives are reaching a limit of physical capacity, with density a critical issue which may top out in current technology at 20TB or 24TB. The comparison is orders of magnitude: a 18TB HDD writes 1022 Gb/in2, while an 18TB tape cartridge writes 12Gb/in2. Clearly there is significant scope for tape to increase areal density and the capacity of cartridges. Back in 2017, Sony and IBM demonstrated tapes with 201GB/in2, giving a tape cartridge 330TB capacity. Fujifilm has demonstrated 224Gb/in2, which results in 400TB capacity.
The LTO Consortium is forecasting a few generations forward, with the assumed doubling of capacity each time into the future.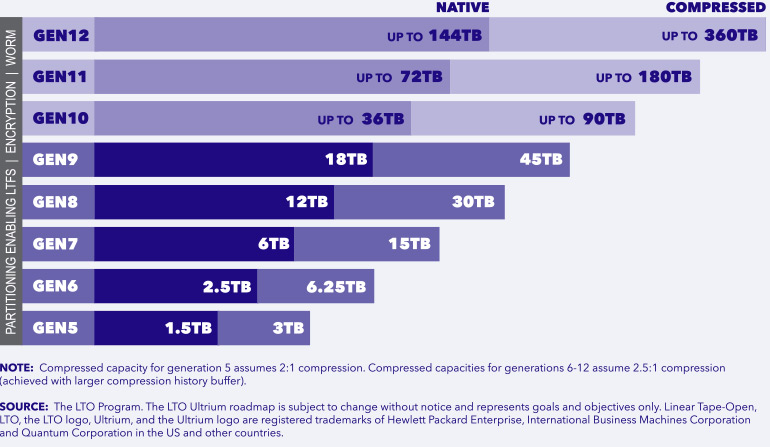 Backward Compatibility Between Generations
Up to LTO 7, each generation of LTO drives could read two generations previous, and read and write one generation pervious. There was a change to the drive and tape format in LTO8 that meant LTO8 could only read and write LTO8 and LTO7, and could not read LTO6 tapes. For this reason, many customers stayed on LTO7 (which could read and write LTO6, and read LTO5).
Similar to LTO8, the new LTO9 format has only a single generation compatibility. LTO9 can read and write LTO8, but not LTO7. Given these generational considerations, it is important to plan tape upgrades and consider plans to deal with older tapes – either through migration and condensing these into latest generation media, or keeping them accessible by maintaining access to an older library with older drives.
With the massive increases in capacity at LTO8 and not LTO9, the advantage of capacity by rack unit makes moving up to LTO9 compelling, with even small 3 rack units capable of holding 2.25PB compressed data and 900TB raw.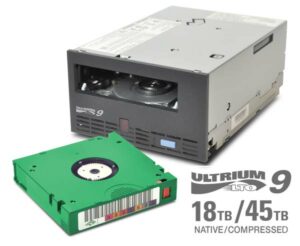 LTO9 Features
The new generation LTO9 includes the features of previous generations that make LTO tape a popular choice for long term archive.
Increased read/write speed: now 400MB/s raw and 1000 MB/s compressed.
WORM: Write Once Read Many protection for data.
LTFS: Linear Tape File System – the ability to present a tape as a NAS folder in the file system for drag and drop file transfers.
Open tape format with compatibility between hardware and media vendors.
The open format of LTO has become more important in recent years, as proprietary tape manufacturers have exited the industry and are not longer producing drives or media. This has left many customers stranded in an technological cul-de-sac limiting archive growth and causing maintenance headaches. If you are experiencing any of these issues with DMF, T10K or other proprietary tape formats, contact XENON today and we can hep map a transition to open format LTO to protect your archive into the future.
Pre-purchase and Pre-Order Programs
Pre-purchase programs are available, where you can purchase new LTO8 drives, and have them swapped out for free for LTO9 drives when they are available in 2021.
We anticipate LTO9 media to be available early 2022. While manufacturers have announced availability of drives and media here in September 2021, continued freight and logistics delays mean that LTO9 drives or media are unlikely to land in Australia before the end of 2021. We are currently taking pre-orders now to secure stock – contact us today to discuss your requirements and secure the drives and media you need now. 
Contact the XENON team to plan out our archive and ransomware protection strategy with LTO Tape. We have a range of library options starting from 3 rack units and 25 tape slots, up to multiple full rack libraries capable of holding 12,000 tapes (540,000TB of compressed LTO9 capacity!).
Latest up-date to this post: 9-Sept-2021. 
Talk to a Solutions Architect