In something of a surprise move, NVIDIA® took to the stage today at GTC to announce a new roadmap for their GPU families. With today's announcement comes news of a significant restructuring of the roadmap that will see GPUs and features moved around, and a new GPU architecture, Pascal, introduced in the middle.
We'll get to Pascal in a second, but to put it into context let's first discuss NVIDIA®'s restructuring. At GTC 2013 NVIDIA® announced their future Volta architecture. Volta, which had no scheduled date at the time, would be the GPU after Maxwell. Volta's marquee feature would be on-package DRAM, utilizing Through Silicon Vias (TSVs) to die stack memory and place it on the same package as the GPU. Meanwhile in that roadmap NVIDIA® also gave Maxwell a date and a marquee feature: 2014, and Unified Virtual Memory.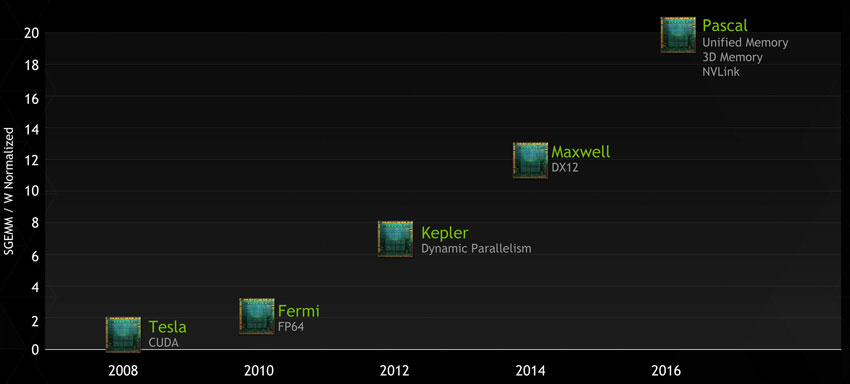 As of today that roadmap has more or less been thrown out. No products have been removed, but what Maxwell is and what Volta is have changed, as has the pacing. Maxwell for its part has "lost" its unified virtual memory feature. This feature is now slated for the chip after Maxwell, and in the meantime the closest Maxwell will get is the software based unified memory feature being rolled out in CUDA 6. Furthermore NVIDIA® has not offered any further details on second generation Maxwell (the higher performing Maxwell chips) and how those might be integrated into professional products.
As far as NVIDIA® is concerned, Maxwell's marquee feature is now DirectX 12 support (though even the extent of this isn't perfectly clear), and that with the shipment of the GeForce GTX 750 series, Maxwell is now shipping in 2014 as scheduled. We're still expecting second generation Maxwell products, but at this juncture it does not look like we should be expecting any additional functionality beyond what Big Kepler + 1st Gen Maxwell can achieve.
Meanwhile Volta has been pushed back and stripped of its marquee feature. It's on-package DRAM has been promoted to the GPU before Volta, and while Volta still exists, publicly it is a blank slate. We do not know anything else about Volta beyond the fact that it will come after the 2016 GPU.
Which brings us to Pascal, the 2016 GPU. Pascal is NVIDIA®'s latest GPU architecture and is being introduced in between Maxwell and Volta. In the process it has absorbed old Maxwell's unified virtual memory support and old Volta's on-package DRAM, integrating those feature additions into a single new product.