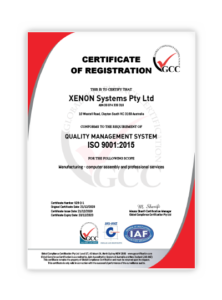 XENON's quality management systems were reviewed and externally audited late in 2020, and we are proud to announce that XENON's production and professional services are now certified against the ISO 9001 standard for quality management systems.
XENON has always been focused on delivering the best solutions for our customers. This Global Compliance Certification recognises of our constant focus on quality products and services, and documents our continual improvement activities.
XENON celebrates our 25th anniversary in 2021, and the ISO9001 certification is a fitting recognition of the work of the XENON team over the last 25 years developing the XENON products and professional services. Read more about XENON's key milestones over the last 25 years.