Melbourne, Jan 15, 2011 – XDT's highly efficient LAN and WAN transfer technology now bundled with selected XENON Radon server platforms to offer high-speed path for data migration.
XDT Pty Ltd announced that its Catapult® Server software now comes bundled on selected XENON Systems Radon server platforms utilising Gigabit Ethernet connections, delivering up to 114MB/s over any LAN or WAN link.
This new software / hardware bundle is ideal for customers who require:
Virtual Machine migration and backup
Database migration and backup
Disaster recovery
Transfers and syncing between remote offices
Remote backups and duplication
Faster than FTP performance over WAN
Easily upgradable to an unlimited throughput license for up to multiple GB/s transfers
Unlimited Slingshot clients and the Catapult® Control web-based management software packages are also included
"Today it is standard for XENON to ship a server with at least 5TB of useable storage, and with Catapult® server our customers will be able to efficiently transfer data to and from these servers at wire speed", says Dragan Dimitrovici, CEO at XENON Systems. "With the exponential growth of storage capacity in servers over the last few years, we have been hearing from our customers that network transfers for data migration or disaster recovery were becoming a pressure point. By bundling XDT's Catapult® technology with our Radon servers we are looking to elevated this pressure point for our customers and bring the network interconnect in line with the storage capacity of our Radon servers".
Catapult®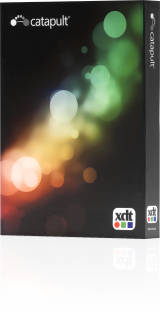 XDT's innovative Catapult® technology has redefined networked LAN and WAN media transfers and review. Its Catapult® suite of products delivers unprecedented point-to-point performance by utilising standard networking infrastructure. The Catapult® protocol addresses the shortcomings of common network protocols such as FTP, NFS and CIFS and bridges the gap between local and wide area transfers, which extends to film scanning and remote review of uncompressed frame sequences.
Using any standard network interconnect, Catapult® Server is capable of delivering the same local throughput performance of storage arrays to local or wide area network connected systems.
About XDT Pty Ltd

XDT Pty. Ltd. is a developer of advanced software-based solutions for high-speed data transfers and frame review. Its unique Catapult® technology redefines WAN and LAN transfers providing the ability to saturate virtually any network interconnect, maximising available bandwidth combined with highly efficient disk writes for post-production workflows.
Catapult® delivers unprecedented performance for point-to-point media transfers and high resolution uncompressed frame review over standard networking infrastructure.
Visit xdt.com.au for more information.
Talk to a Solutions Architect