BlackDiamond X8 Series
The ExtremeSwitching X8 platform provides seamless any-to-any connectivity through a simple, scalable, and centrally orchestrated network.
Designed for cloud-scale requirements of data centers, high-performance computing (HPC), and Internet exchange points (IXP), the ExtremeSwitching X8 provides a low-latency, high-performance switch fabric with high-density wire-speed 10GbE, 40GbE, and 100GbE connectivity for edge-to-core applications, all in a compact footprint using only one-third of a standard rack. The ExtremeSwitching X8 eliminates expensive multi-tier architectures and the challenges of inter-device connectivity, uplink bandwidth, and latency. The ExtremeSwitching X8 also leverages a low-power design ideal for green operations and high degrees of energy efficiency, resulting in lower total cost of ownership (TCO).
Get a Quote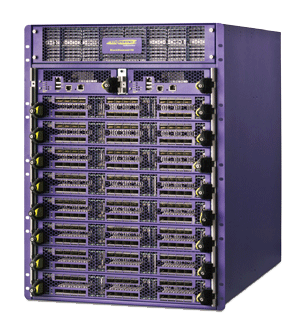 Extreme Networks BlackDiamond X8 Series
Model Number
High-performance switching
Extreme Networks BlackDiamond X8 Series
20+Tbps switching capacity
2.56Tbps bandwidth per slot
192 x 40GbE or 768 x 10GbE or 32 x 100GbE
Model Number
High-availability design
Extreme Networks BlackDiamond X8 Series
N+1 switching, power, and fan redundancy
N+N Power GRID redundancy
Extreme Networks BlackDiamond X8 Series
2.3 µsec
Model Number
High-density design
Extreme Networks BlackDiamond X8 Series
14.5 RU (1/3 rack )
Model Number
Virtualisation support
Extreme Networks BlackDiamond X8 Series
128K virtual machines
Virtual port profile (VPP) support
Virtual machine lifecycle management with XNV
Model Number
Storage convergence
Extreme Networks BlackDiamond X8 Series
NFS, CIFS, iSCSI, FCoE
Extreme Networks BlackDiamond X8 Series
High-efficiency 100GbE CFP2 optics
5.6W per 10GbE port
Pure front-to-back cooling
Intelligent power management
Variable-speed fans