Bow-2000
NEW
The Bow-2000 machine is the building block for our Bow Pod systems and for disaggregated machine intelligence infrastructure at scale.
Each 1U blade features 4 Bow IPU processors, and delivers an amazing 1.4 petaFLOP of AI compute, 3.6GB In-Processor-Memory™ and up to 256GB Streaming Memory™.
Can be run independently or when combined with host servers the Bow-2000 technology is at the heart of all Graphcore Bow Pod systems.
Check out more about Graphcore in these blog posts on the XENON site.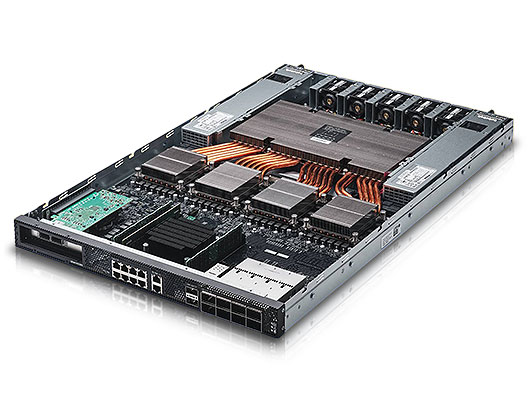 VAST DF-5615, VAST DF-5630 Active/Active NVMe Enclosure
Specifications
IPU processors
VAST DF-5615, VAST DF-5630 Active/Active NVMe Enclosure
4 Bow IPU processors (IPU frequency 1.85GHz)
5,888 IPU-Cores™ with independent code execution on 35,328 worker threads
Specifications
AI compute
VAST DF-5615, VAST DF-5630 Active/Active NVMe Enclosure
1.394 petaFLOPS AI (FP16.16) compute
0.349 petaFLOPS FP32 compute
VAST DF-5615, VAST DF-5630 Active/Active NVMe Enclosure
Up to ~260GB memory (3.6GB In-Processor Memory™ plus up to 256GB Streaming Memory™)
Specifications
Streaming Memory
VAST DF-5615, VAST DF-5630 Active/Active NVMe Enclosure
2 DDR4-2400 DIMM DRAM
Options: 2x 64GB (default SKU in Bow-2000 Founder's Edition) or 2x 128GB (contact sales)
Specifications
IPU-Gateway
VAST DF-5615, VAST DF-5630 Active/Active NVMe Enclosure
1x IPU-Gateway chip with integrated Arm Cortex quad-core A-series SoC
Specifications
Internal SSD
VAST DF-5615, VAST DF-5630 Active/Active NVMe Enclosure
32GB eMMC
VAST DF-5615, VAST DF-5630 Active/Active NVMe Enclosure
RoCEv2 NIC (1 PCIe G4 x16 FH¾L slot)
Specifications
Mechanical
VAST DF-5615, VAST DF-5630 Active/Active NVMe Enclosure
1U 19inch chassis (Open Compute compliant)
440mm (width) x 728mm (depth) x 1U (height)
Weight: 16.395kg (36.14lbs)
Specifications
Lights-out management
VAST DF-5615, VAST DF-5630 Active/Active NVMe Enclosure
OpenBMC AST2520
2x1GbE RJ45 management ports
VAST DF-5615, VAST DF-5630 Active/Active NVMe Enclosure
8x IPU-Links supporting 2Tbps bi-directional bandwidth
8x OSFP ports
Switch-less scalability
Up to 8 Bow-2000s in directly connected stacked systems
Up to 16 Bow-2000s in Bow Pod systems
VAST DF-5615, VAST DF-5630 Active/Active NVMe Enclosure
2x GW-Links (IPU-Link extension over 100GbE)
2 QSFP28 ports
Switch or switch-less scalability supporting 400Gbp bi-directional bandwidth
Up to 1024 Bow-2000s connected
VAST DF-5615, VAST DF-5630 Active/Active NVMe Enclosure
Mounted for airflow direction front of rack (single door, cold aisle side) to back of rack (split door, hot aisle side)
Specifications
Airflow rate
VAST DF-5615, VAST DF-5630 Active/Active NVMe Enclosure
103 CFM (measured) per Bow-2000
Specifications
Input power (Vac)
VAST DF-5615, VAST DF-5630 Active/Active NVMe Enclosure
200-240 Vac
Specifications
Input power (Vdc)
VAST DF-5615, VAST DF-5630 Active/Active NVMe Enclosure
240-310v for GC-ADA2-30W and GC-ADA2-3EW models
Specifications
Power consumption
VAST DF-5615, VAST DF-5630 Active/Active NVMe Enclosure
1500W typical maximum application power
VAST DF-5615, VAST DF-5630 Active/Active NVMe Enclosure
1700W with programmable power cap
Set to 1500W for 1+1 redundancy
Specifications
Operating temperature and humidity (inlet air)
VAST DF-5615, VAST DF-5630 Active/Active NVMe Enclosure
10-32C (50 to 90F) at 20%-80% RH (*)
Specifications
Operating altitude
VAST DF-5615, VAST DF-5630 Active/Active NVMe Enclosure
0 to 3,048m (0-10,000ft) (**)
(*) Altitude less than 900m/3000ft and non-condensing environment
(**) Max. ambient temperature is de-rated by 1°C per 300m above 900m
For power caps higher than 1700W per Bow-2000 please contact Graphcore sales for environmental guidance
Specifications
EMC standards
VAST DF-5615, VAST DF-5630 Active/Active NVMe Enclosure
Emissions: FCC CFR 47, ICES-003, EN55032, EN61000-3-2, EN61000-3-3, VCCI 32-1
Immunity: EN55035, EN61000-4-2, EN61000-4-3, EN61000-4-4, EN61000-4-5, EN61000-4-6, EN61000-4-8, EN61000-4-11
Specifications
Safety standards
VAST DF-5615, VAST DF-5630 Active/Active NVMe Enclosure
IEC62368, IEC60950
Specifications
Certifications
VAST DF-5615, VAST DF-5630 Active/Active NVMe Enclosure
North America (FCC), Europe (CE), UK (UKCA), Australia (RCM), Taiwan (BSMI), Japan (VCCI)
South Korea (KC), China (CQC)
Specifications
Environmental standards
VAST DF-5615, VAST DF-5630 Active/Active NVMe Enclosure
EU 2011/65/EU RoHS Directive, XVII REACH 1907/2006, 2012/19/EU WEEE Directive