Nitro ZX2 Visual Workstation
The XENON Nitro™ ZX2 Workstation is optimised for Animation, Visualization and High Performance Computing environments that require intensive processing power for visualisation, data-modelling, media production and design.
Key features include:
HyperSpeed Technology for safe overclocking of processors and memory to achieve the highest performance levels
Up to (3) GPU processors enables your organisation to harness the power of supercomputing in your research, production or business environment
Up to 1024Gb of memory for complex in-memory computation, data analysis and modelling
Internal storage for (4) high performance quick-swap disk drives
GPU can be selected to depending on the requirement for single or double decimal point accuracy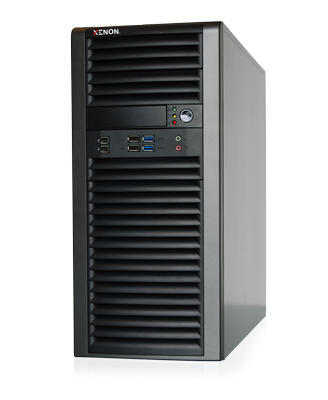 Tower/Pedesal
Third generation Dual Intel® Xeon® E5 2600v4 processor
Tower/Pedesal
Support for up to 1024Gb DDR4 High Speed DIMM error correcting memory. Supports 2400/2133/1866MHz clock speeds. High Performance memory is selected to reduce jitter and latency to ensure predictable performance when memory and CPU are optimised to exceed published specifications.
Tower/Pedesal
Intel® C612 Chipset. The XENON Nitro™ G7 supports Enterprise class operating systems including Windows Enterprise Server
Tower/Pedesal
Red Hat Enterprise Server and Suse Enterprise Server. The chipset also supports BIOS provided by American Megatrends
Form Factor
BIOS Performance Enhancements
Tower/Pedesal
Phoenix Technologies and Insyde Software. For expansion needs the C612 supports 10 SATA Gen 3 ports operating at 6Gb/s and up to 6 USB 3.0 ports and 8 USB 2.0 ports.
Form Factor
Operating System Support
Tower/Pedesal
The XENON Nitro™ G7 supports (3) GPU processors for intensive computational work. You can install (2) double deck GPU's to meet the differing needs of specific computation tasks. The Rack Workstation supports leading GPU's from Intel® and NVIDIA® to provide single and double decimal point error correction.
Form Factor
Storage Options
Form Factor
Expansion Ports
Tower/Pedesal
Intelligent Platform Management Interface (IPMI) V2.0 that features virtual media over LAN and KVM-over-LAN support via a dedicated RJ45 Ethernet port. The power supply is equipped with PMBus to alert administrators on performance parameters and flag any anomalous behaviour that may indicate a potential failure.
Tower/Pedesal
The workstation has an embedded SATA3 6Gb/s controller that supports up to 10 SATA 3 ports.
Tower/Pedesal
The XENON Nitro™ ZX2 features an embedded dual Intel® i210 1GbE network interface.
Form Factor
Environmental
Tower/Pedesal
900W High Efficiency power supply (Optional 1200W). The power supply is enabled with the PMBus protocol to ensure stable performance operation and increase system uptime.
Form Factor
Expansion Options
Form Factor
Network Upgrades
Form Factor
Memory Upgrades
Tower/Pedesal
XENON can add extra features to maximise the return on investment in your Nitro™ visual workstation.
Form Factor
Storage Upgrades