NVIDIA Jetson AGX Orin Developer Kit «NEW»
NEW
The NVIDIA® Jetson AGX Orin™ Developer Kit enables customers to get started easily with the power-efficient, high performance Jetson AGX Orin module. With up to 200 TOPS of AI performance and power configurable between 15W and 50W, you now have more than 6X the performance of NVIDIA® Jetson AGX Xavier™ in the same compact form-factor for developing advanced robots and other autonomous machine products.
Supported by NVIDIA JetPack™ and use-case specific software platforms including Isaac for robotics, Clara for healthcare, and Metropolis for smart cities, this developer kit provides everything you need to get started right away.
Please Note: The Jetson AGX Orin module and developer kit are coming in June 2022. Sign up via the quick quote request to be notified when they're available or pre-order yours today. 
Get a Quote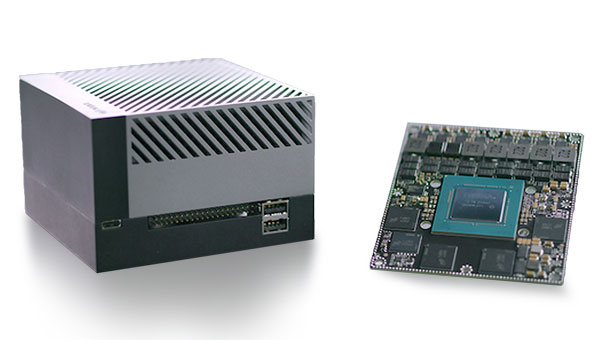 NVIDIA Jetson AGX Orin Developer Kit
NVIDIA Jetson AGX Orin Developer Kit
NVIDIA Ampere architecture with 2048 NVIDIA® CUDA® cores and 64 Tensor Cores
NVIDIA Jetson AGX Orin Developer Kit
12-core Arm® Cortex®-A78AE v8.2 64-bit CPU 3MB L2 + 6MB L3
SPECIFICATIONS
DL Accelerator
NVIDIA Jetson AGX Orin Developer Kit
2x NVDLA v2.0
SPECIFICATIONS
Vision Accelerator
NVIDIA Jetson AGX Orin Developer Kit
PVA v2.0
NVIDIA Jetson AGX Orin Developer Kit
32GB 256-bit LPDDR5 204.8 GB/s
NVIDIA Jetson AGX Orin Developer Kit
64GB eMMC 5.1
microSD card slot
M.2 Key M connector (for NVMe)
SPECIFICATIONS
Video Encode
NVIDIA Jetson AGX Orin Developer Kit
2x 4K60 | 4x 4K30 | 8x 1080p60 | 16x 1080p30 (H.265)
SPECIFICATIONS
Video Decode
NVIDIA Jetson AGX Orin Developer Kit
1x 8K30 | 2x 4K60 | 6x 4K30 | 12x 1080p60 | 24x 1080p30 (H.265)
NVIDIA Jetson AGX Orin Developer Kit
MIPI CSI-2 camera connector
NVIDIA Jetson AGX Orin Developer Kit
Standard PCIe x16 connector with x8 PCIe Gen4
SPECIFICATIONS
Networking
NVIDIA Jetson AGX Orin Developer Kit
RJ45 connector (up to 10 GbE)
Upper x8 of PCIe connector supports 3x 10 GbE
M.2 Key E connector (WiFi/BT, PCIe x1, USB 2.0, UART, I2S & I2C)
M.2 WiFi/BT module included
NVIDIA Jetson AGX Orin Developer Kit
DisplayPort connector (DP++)
NVIDIA Jetson AGX Orin Developer Kit
2x USB Type C
2x USB 3.2 Type-A
NVIDIA Jetson AGX Orin Developer Kit
40-pin header ( I2S, SPI, UART, I2S, CAN, DMIC)
10-pin Audio Panel Header
10-pin JTAG Header
4-pin Fan Header
NVIDIA Jetson AGX Orin Developer Kit
DC power jack (for included power supply)
SPECIFICATIONS
Mechanical
NVIDIA Jetson AGX Orin Developer Kit
110mm x 110mm x 71.65mm