NVIDIA TITAN RTX
TITAN RTX POWERS AI, MACHINE LEARNING, AND CREATIVE WORKFLOWS
Get a Quote
NVIDIA® TITAN RTX™ is the fastest PC graphics card ever built. It's powered by the award-winning Turing™ architecture, bringing 130 Tensor TFLOPs of performance, 576 tensor cores, and 24 GB of ultra-fast GDDR6 memory to your PC. Now, AI developers and data scientists can achieve results faster with a cost-effective desktop solution powered by NVIDIA Turing™ that delivers revolutionary performance at your fingertips.
REVOLUTIONARY PERFORMANCE, POWERED BY TURING
TITAN RTX trains advanced models like ResNet-50 and GNMT up to 4X faster than Titan Xp. And RAPIDS trains models up to 3X faster than CPUs. Built with multi-precision Turing Tensor Cores, TITAN RTX delivers breakthrough performance from FP32, FP16, INT8, and INT4, allowing faster training and inferencing of neural networks. Equipped with twice the memory capacity of previous-generation TITAN GPUs and NVIDIA NVLink™, TITAN RTX enables researchers and data scientists to experiment with larger neural networks and datasets than ever before, all on GPU memory.
Get a Quote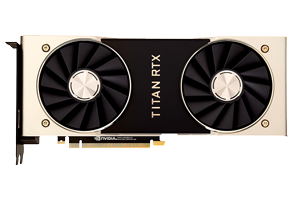 Specifications
GPU Memory
NVIDIA TITAN RTX
24 GB GDDR6
Specifications
Memory Interface
Specifications
Memory Bandwidth
NVIDIA TITAN RTX
672 GB/s
Specifications
NVIDIA CUDA Cores
Specifications
NVIDIA Tensor Cores
Specifications
NVIDIA RT Cores
Specifications
Single-Precision Performance
NVIDIA TITAN RTX
7.1 TFLOPS
Specifications
Tensor Performance
NVIDIA TITAN RTX
130 TFLOPS
Specifications
Graphics Processing Clusters
Specifications
Texture Processing Clusters
Specifications
Streaming Multiprocessors
Specifications
Base Clock (MHz)
NVIDIA TITAN RTX
1350 MHz
Specifications
Boost Clock (MHz)
NVIDIA TITAN RTX
1770 MHz
Specifications
Memory Clock
NVIDIA TITAN RTX
7000 MHz
Specifications
Memory Data Rate
Specifications
L2 Cache Size
Specifications
Texture Rate (Bilinear)
NVIDIA TITAN RTX
510 GigaTexels/sec
Specifications
FFN Fabrication Process
Specifications
Transistor Count
NVIDIA TITAN RTX
18.6 Billion
Specifications
Thermal Threshold
Specifications
Form Factor
NVIDIA TITAN RTX
Dual Slot
Specifications
Display Connectors
NVIDIA TITAN RTX
3 x DisplayPort , 1 x HDMI, 1 x USB Type-C
Specifications
OS Certification
NVIDIA TITAN RTX
Windows 7 64-bit, Windows 10 64-bit (April 2018 Update or later),Linux 64-bit
Specifications
Power Connectors
NVIDIA TITAN RTX
Two 8-pin
Specifications
Recommended Power Supply
NVIDIA TITAN RTX
650 Watts
Specifications
Thermal Design Power (TDP)
NVIDIA TITAN RTX
280 Watts