XENOptics XSOS-288
The XENOptics Smart Optical Switch (XSOS) is a fully remotely managed fibre switching solution. XSOS enables remote automation of all network operations including maintenance, testing, reconfiguring, monitoring and troubleshooting.
The XSOS-288 provides 288 ports (144 x 144) in a non-blocking fibre switching network.
Key features of the XSOS-288 include:
Cost effective. Efficient architecture enables a low cost per port.
High optical performance. Maintains uniform insertion loss of <0.5dB and return loss < -65dB.
Field replacement. Modular design where any of the modules can be replaced in the field safely without disrupting traffic.
Flexible fibre termination. Connectivity via splices and/or connectors.
RFTS. Integrated Remote Fibre Testing Systems.
Carrier-class system. Meets applicable ITU recommendations. Highly reliable field-proven units.
Synchronised database and auto-discovery. Configurations are immediately reflected in the web based XEMS management system and recovered automatically in case of failure.
High density. Based on XENOptics patented 3D Optical Switching technology which provides unique fibre density and allows fibre ports management of up to 1728 ports using one side of a standard 19 inch rack, or up to 3456 ports by using dual sides of the rack (with XSOS units back-to-back).
Standard software interfaces. Management software XEMS uses web graphical user interface and SDM compliant Restful API. SNMP/TL1 equipment interfaces.
Power independent traffic. Latching mechanism consumes power only while switching and maintains traffic transmission in the event of power failure.
Download the XSOS-288 datasheet
Contact us today for more information, or for a quote for your XSOS solution.
Talk to a Solutions Architect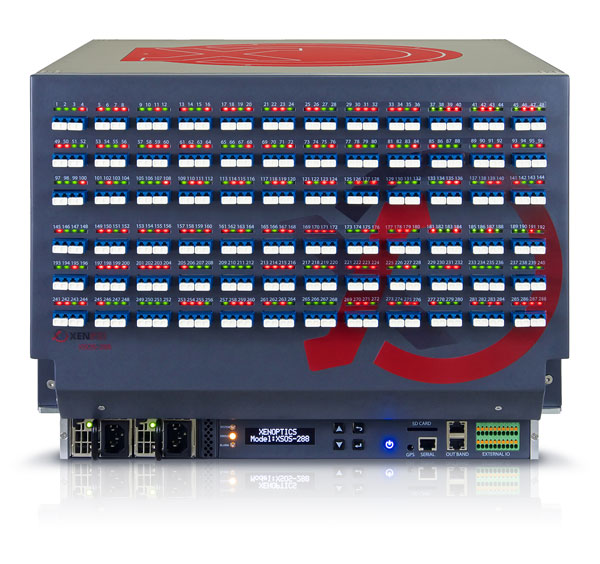 Description
RS-232 interface for local or maintenance operation.
Key Features
Debugging Port
Description
USB interface for R&D and technician use.
Key Features
TCP/UDP Interface
Description
HTTP, HTTPS, SNMPv2/v3, Telnet, SSH, TFTP, NTP and Restful API
Key Features
RTFS In (optional)
Description
An optical interface that connects an OTDR interface to the matrix in order to scan and monitor any fibre is connected to the system
Key Features
RTFS Out (optional)
Description
An optical interface that connects the OTDR signal to the adjacent matrix's system in order to scan and monitor any fibre is connected to the adjacent system
Key Features
RTFS Control (Optional)
Description
100BT OTDR control interface
Description
110 / 220 Volt AC interface. (Optional) Dual feed power 48V input for main CO power source and backup CO source
Key Features
External Alarm
Description
4x dry contact, normally closed ports
Key Features
Keypad and LCD
Description
A 5 command keys + display to control the system locally