Enquire about this solution
Commvault
DATA PROTECTION AND RECOVERY SOLUTIONS

Enterprise organisations deploy a wide range of operating systems, applications, servers, and storage to meet their global business needs. To be successful, they require more than just fast backup and recovery. They must actively manage, access, and leverage data across storage tiers and wherever it resides. And they need the freedom to deploy the storage and infrastructure that best meets their budget and performance requirements.
Commvault® cloud data management solutions are helping companies worldwide activate and drive more value and business insight out of their data to transform modern data environments.
COMMVAULT – INTEGRATED DATA PROTECTION AND NO SILOS!
Unlike traditional solutions, Commvault® data protection and recovery software was designed with a single code base, a single index, and is completely integrated. Protected data is stored in a single, virtual data repository, which eliminates the separate data silos that come with traditional snapshot, backup, archive, and reporting products.
As a result, only Commvault® delivers a unified, automated data protection platform that provides a single, complete view of all enterprise data wherever it resides. In addition, Commvault® supports a wide range of industry leading storage, systems, and environments, so users are never locked-in to a specific vendor's expensive brand of storage.
Commvault's integrated solutions quickly protect data across the enterprise – including virtual and physical servers, cloud, hybrid, NAS, remote access, desktops, laptops, and mobile devices. Flexible data protection options include Commvault® Snapshot Management, de-duplicated backup, replication, and archive. In all cases, data can be quickly recovered in a single step. In addition, Commvault® software enables organizations to actively manage and archive data across storage tiers to reduce costs and improve performance, immediately access data without waiting for a full recovery, and easily leverage data in support of e-discovery, regulatory compliance and other objectives. Commvault® software also provides advanced reporting and analytics across all data and environments, so companies can make better business decisions.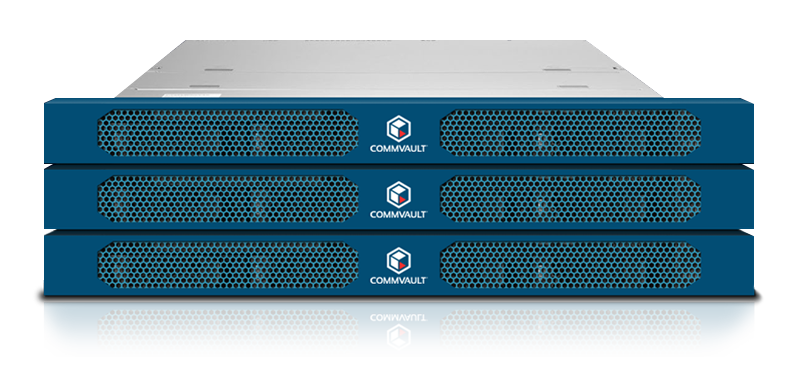 NEW: HYPERSCALE
On-premises simplicity, elasticity, resiliency, flexibility and scale for managing secondary data.
Commvault® Hyperscale consists of an all in one hyper-converged appliance and software that can be installed on general purpose hardware. The Commvault® Hyperscale Appliance integrates compute, storage, data management and analytics into a single platform starting at 48TB. Commvault® HyperScale Software consolidates data protection into a single software defined stack spanning multiple storage nodes as a a massively addressable storage pool with built-in enterprise class data management capabilities.
Talk to a Solutions Architect