Enquire about this solution
Data Direct Networks (DDN)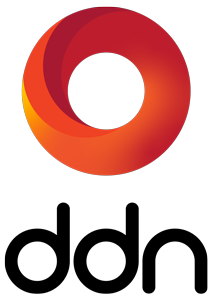 DDN is a global leader in scale out data storage. For more than two decades, DDN has helped customers extract value and manage their data better, faster, and safer. Their comprehensive and seamless portfolio of end-to-end storage technologies provide an extremely flexible data lifecycle management set of tools that can be applied anywhere and at any scale. These pillars of technology can be connected together to solve end-to-end data lifecycle management challenges, enabling you to achieve peak efficiency and extract maximum value throughout the entire lifecycle of your data.
XENON works very closely with DDN to deliver and support the following product ranges:
Trini – Enterprise Solutions
Intelligent Infrastructure for mission critical and business applications. A different approach enables IT to deliver better products and faster services
IME Solutions – All-Flash Cache
Turbo boost for data centric applications. Increase file system performance transparently and optimize the value of flash with highly advanced I/O acceleration software.
Exascaler – Parallel File Storage
Data management built into the fastest and most scalable file solution on the planet. Instant data access for research and innovation made simple.
A³I storage solutions – AI Data Management
HPC-level infrastructure designed to accelerate AI, Deep Learning and Big Data applications with rapid deployment and easy management.
WOS – Object Storage
Seamless storage for data-at-scale. Simplicity for global data in a service oriented environment that grows without boundaries.
SFA18KX™ – Data Platforms
Production proven performance, scaling and flexibility from the experts in data-at-scale. The most efficient infrastructure for data-centric organizations.
Talk to a Solutions Architect