Enquire about this solution
Versity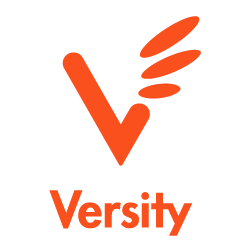 Versity is the leading independent provider of advanced, scalable, high throughput software defined archiving storage technology solutions for large archiving sites around the world. Organizations leverage Versity Storage Manager (VSM) to implement low cost large scale data preservation strategies for long term storage and retrieval of data in both on premise and hybrid cloud environments.
VSM is now in its second generation, with VSM2 running a node and services architecture that makes the system extremely scalable and efficient. Versity has proven VSM across the globe with a range of large and small customer to be the leading next generation large scale archive data management platform for cost effectively protecting massive data collections on any mix of storage devices and cloud services.
VSM has two primary components. The first is an open source scale out archiving file system called ScoutFS, and the second is a scale out userland application called Scout Archive Manager (ScoutAM). The two components work together to deliver file create rates, parallel archiving, find operations, and other archival work with vastly improved speed and efficiency.
ScoutFS – Scale Out Filesystem
ScoutFS is a POSIX compatible, open source (under GNU Public License) filesystem highly optimised for fast and efficient data archiving.  ScoutFS is a scale-out, clustered, highly scalable filesystem that can grow to hundreds of billions of files and could ultimately scale to 1 trillion files in a single namespace.
ScoutFS provides the front-end access for end-users and applications, supporting exa-scale archiving workflows.
ScoutAM – Scale Out Archive Manager
A cluster of ScoutAM service nodes provides that data broker that manages parallel, fast, and scalable data movement between the online ScoutFS filesystem and nearline archive.
Driven by user defined migration policies, data is moved from the ScoutFS filesystem to the high capacity, low cost archive.  The archive storage tier can be tape libraries, object storage, and/or private or public cloud platforms.
All metadata remains online saved in the ScoutFS filesystem, regardless of whether associated data blocks are saved on the ScoutFS filesystem; or have been migrated out to the archive.
This allows all data to be searchable, browsable, and used by end-users and/or applications, regardless of whether data is saved in the online ScoutFS in the Archive.
And of course, data is recalled back from the Archive, whenever its accessed.  This process is called staging and is fully automatic and transparent to the end-users and applications.
Intelligent Cache
An intelligent cache based on a shared block storage device automatically balances the available storage space between new incoming data, archiving data and retrieving data.  Storage Administrators may specify files based on certain criteria (such as pathname matches, owner, size, type, etc.) that should always remain in cache.
The cache has two parameters that trigger removal of data from the cache.  When the cache utilisation reaches the high-water threshold,  ScoutAM starts releasing (removing) data from the cache.
When data is requested by end-users or applications, data is "staged" back from the archive, to the ScoutFS.
VSM Benefits
Field proven exascale archiving capabilities.
Automated  data and archive management, which is transparent to end-users and applications.
No vendor lock-in using commodity x86 servers and 3rd party storage hardware (unlike some other HSM vendors).
Open source archive data format (GNU tar file format – i.e. non-propriety tape format – unlike some other HSM vendors).
Strong product roadmap moving into the future.
World class global support dedicated to total customer satisfaction.
Migration services from legacy HSM systems such as DMF, SAM-QFS and HPSS are common and straight forward. Contact XENON today if you would like to learn more about migrating from proprietary HSM to open standards HSM.
Versity's Scale-Out (Scout) Archive Platform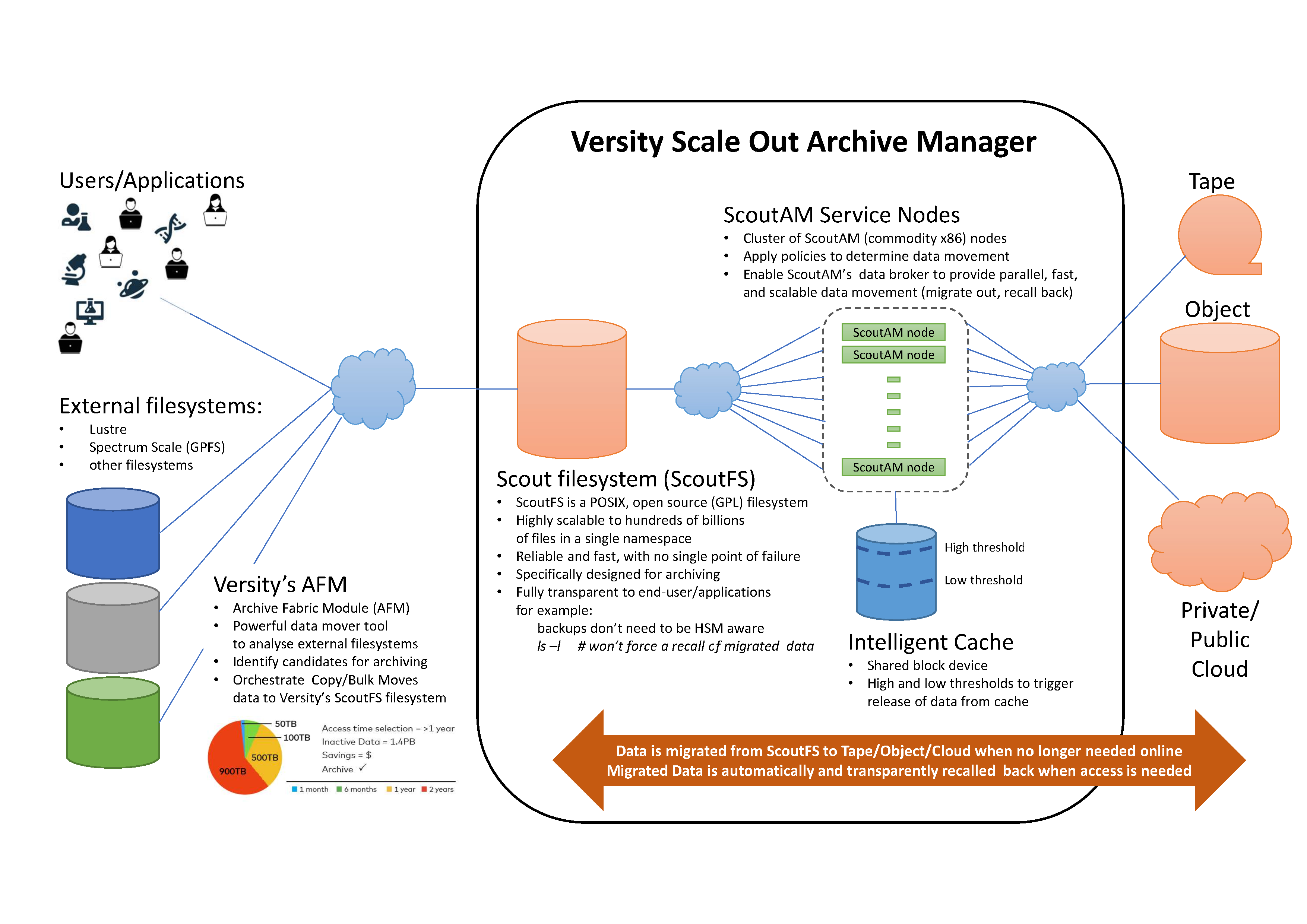 Learn More
Download the Versity Datasheets:
Download the Versity VSM WhitePaper
Talk to a XENON solutions architect today about a Versity solution for your archive requirements.
Talk to a Solutions Architect