Servers with New 3rd Generation XEON Scalable Processors


The latest Intel® XEON® processors are now available in a range of servers from XENON. Servers can be tailored to your specific requirements, with a full range of processors under Bronze, Silver, Gold and Platinum banners each suitable for a wide range of workloads.
Bronze XEON processors deliver solid reliability for small business servers and storage server systems.
Silver XEON processors have range and power efficiency for entry level enterprise level workloads, networking and larger storage systems.
Gold XEON processors deliver scalable performance with up to four sockets, and advanced security features including encryption acceleration.
Platinum XEON processors have 2,4, or 8 socket configurations and meet the needs of high performance, high density workloads.
Get a Quote
Now Available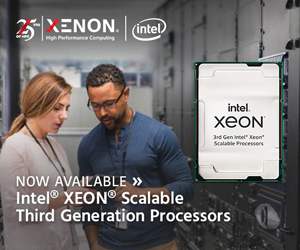 XEON is currently building servers with the Third Generation XEON Scalable Processors. We have server configurations to meet a wide variety of requirements.
Entry Level. These servers are ideal for small business or department workloads, and are built with either Bronze or Silver range XEON processors.
Mid-Range. More powerful configurations with more memory for compute intensive workloads including VDI, VM hosts. These servers are configured with Silver or Gold range XEON processors.
High Performance. When you need maximum speed and density, these servers with Platinum processors are designed to maximise core count per rack unit and deliver high memory bandwidth for high throughput workloads.
GPU Servers. Designed to take advantage of PCIe Gen4 to maximise GPU computing power.
Get a Quote
Under the Hood of the Third Generation XEON Scalable Processors
The new 3rd Gen XEON Scalable processors bring a range of improvements across all aspects of CPU performance.
AI Acceleration. The new processors include inbuilt AI acceleration including Intel Deep Learning Boost and tools to increase processing speed of data science and analytics workloads.
Encryption. Designed with security in mind, Intel Crypto Acceleration increases the performance of encryption based workloads such as VPN and Firewalls, SSL web serving and 5G workloads.
PCIe Gen4. More lanes for more CPU memory bandwidth and to make the most of the latest PCIe Gen4 GPUs, NICs and expansion cards.
Performance. New 3rd Gen XEON processors are delivering on average 1.46x processor performance improvement compared with the previous generation, with an additional 1.6x memory bandwidth, 2.66x greater memory capacity, and up to 1.33x more memory lanes with PCIe Gen4.
Security.  Enhanced security features have been designed in a way that increases performance while increasing security. This includes application isolation, better encryption performance, and total memory encryption.
Speed. What's a new generation with a lift in speed? This new generation is faster across the entire range, with Platinum and Gold processors also including the new Intel Speed Select which provides granular tuning of speed profiles for these CPUs.
Act Now
Supply chain shortages due to COVID are real, and continue to effect lead times. XENON continues to build and ship servers, and we recommend getting in quickly to secure the server you need. Reach out to us today to design your tailor made server with the new Third Generation Intel XEON Scalable Processor.
Talk to a Solutions Architect