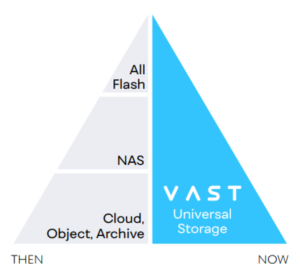 VAST has combined three new technologies to develop a new type of All Flash Array, simplifying storage and changing storage economics.
VAST Flash storage gives you flash speeds, incredible scale, inbuilt data protection, all at hard drive prices. You can have petabytes of flash where you want it, for whatever workload wants it. Consolidating your storage and make it universally available to all your applications in a single namespace, with NAS simplicity.
So you can kiss your hard drives goodbye. Give up the tears with tiering. Keep all your data on flash.
Once you experience all flash speed, you never want to go back to spinners. Now you don't have to.
Read on to learn more, or enquire now to have a chat about VAST's All Flash Array.
Enquire Now
View the two minute overview of VAST:
Enquire Now
A New Approach to All Flash Arrays
VAST Data combines three key technologies in their architecture to create a new type of All Flash Array – NVMe over fabrics which enables a shared-everything architecture, QLC Flash enabling transformative flash economics and density, and 3D XPoint enabling QLC Flash and revolutionary storage efficiency.
VAST Data combines these three technologies in a flexible, scalable cluster architecture with a universal namespace which supports multiprotocol connections.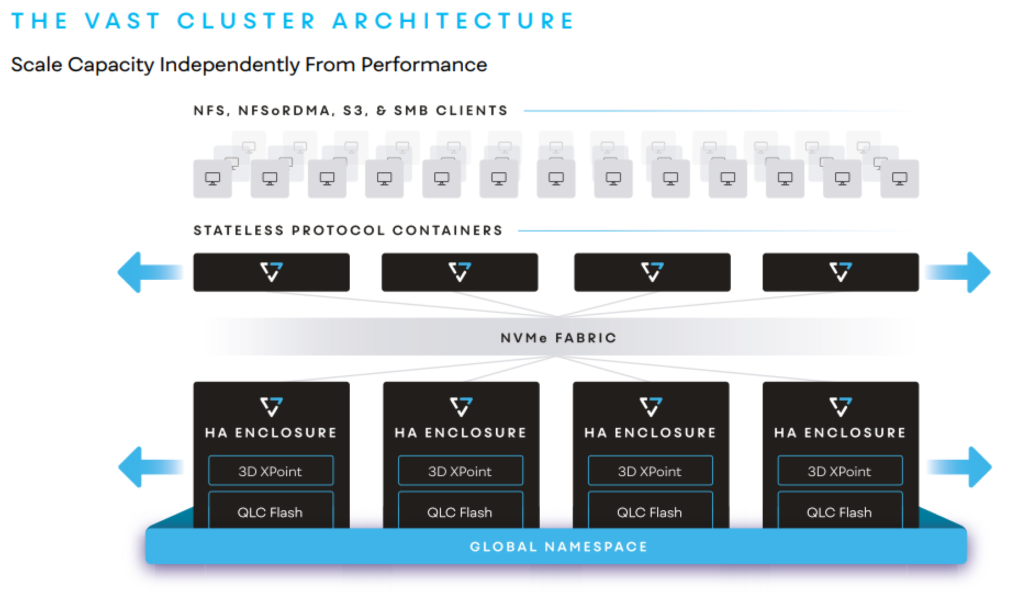 Simplicity with Universal Storage
VAST providers for multiple protocol connections into their universal namespace, supporting NFS, SMB and S3. This allows VAST's all flash array to be deployed for any workload, across any client.
Data protection is built into VAST's architecture and happens automatically. VAST's next generation erasure code protects your data while bringing the storage overhead, or cost, of protection down to just 3% while delivering 100x more resilience than traditional erasure codes.
Enquire Now
Guaranteed Performance and Resilience
VAST's global flash translation software enables the QLC flash to be used in enterprise environments for over a decade, guaranteed. The VAST all flash array also uses less power, less cooling. Overall total cost of ownership is lower while the performance is higher.
Enquire Now
All Flash for All Workloads – Breaking the Legacy Latency Deadlock
Organisations often have a small all flash array for "scratch" storage or work-in-progress calculations by their applications. Data is then moved to slower, cheaper tiers using data management software or a hierarchical storage manager. This workflow works well where there is a linear data workflow – ingest, process, store. However, modern applications are drawing more on historical data, and access patters for stored data have become increasingly random. Machine learning and artificial intelligence applications are the most demanding in this way.
Almost everyone across the organisation wants more all flash storage. Or wants access to it all the time for their application. And traditionally, the only barrier to rolling out all flash arrays for all storage requirements was cost. Enterprise all flash arrays have been prohibitively expensive, which has restricted their wider deployment. VAST storage breaks new ground by making all flash array's affordable enough to be rolled out for all your workloads, for all your storage requirements.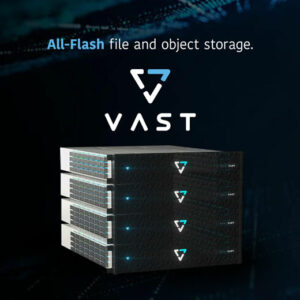 XENON is pleased to bring VAST Data to Australia and New Zealand customers. The XENON team has been exploring VAST solutions for customers who are fighting traditional storage architectures to get the capacity and speed they need for their workloads.
The VAST architecture allows for incredible speed and low latency across the entire storage environment!  The result is outstanding performance and true simplicity.
VAST Data solutions are ideal for a range of high performance, low latency requirements.
Artificial Intelligence. VAST RDMA acceleration for GPU servers is 4x faster than NAS and VAST eliminates HDD latency by making flash affordable for all data analytics and training data.
Content Creation. Workflows run faster when you combine the performance of all-flash NAS at a price point of archive storage.
Content Delivery. CDNs, OTT's, and service providers can now eliminate service latency and serve exabytes of content from flash.
Data Protection. Enterprise backups are more efficient, recoveries are faster, and data centres rack space is reduced with VAST.
HPC. VAST Data delivers the performance of a parallel file system, with the simplicity of a modern NAS platform.
Life Science. Accelerate classic and modern bioinformatics pipelines and consolidate storage silos.
Quantitative Trading. Gain ultimate advantage when all research data can be analysed at NVMe speeds.
These solutions are tried and tested, and being delivered now. Contact XENON to discuss how VAST Data could transform your workloads.
Enquire Now
See all VAST Data Posts and Content.