The A100 PCIe GPU Card for AI
The NVIDIA A100 PCIe GPU Card is the most power GPU processor ever created. It can handle data analytics, AI model training, and AI model inference – all in a single compact GPU card. This flexibility allows you to replace a rack of servers with just a single unit running A100's.
The genius of the A100 is NVIDIA's Multi-Instance GPU, which allows the A100 card to be divided into 7 virtual GPU's. This allows the power of the A100 to be shared, or for it to be combined into a massive single processing powerhouse.
The A100 also comes with NVIDIA NGC software containers – pre-built AI models. This allows you to build AI models and solutions quickly and easily.
The A100 PCIe Card runs the latest 4th Generation PCIe protocol. To make the most of the A100, match your card to the latest AMD processors, super fast memory and PCIe4. XENON has two GPU server platforms to create a powerful customised solution for you.
NITRO G29A:  Single AMD EPYC CPU and up to 2TB DDR4-3200MHz memory, room for 4x A100 PCIe GPU cards.
NITRO GX49A:  Dual AMD EPYC CPUs and up to 8TB DDR4-3200MHz memory, room for 8 x A100 PCIe GPU cards.
XENON is delivering these units across Australia now. Contact us to get a quote on your system or to learn more.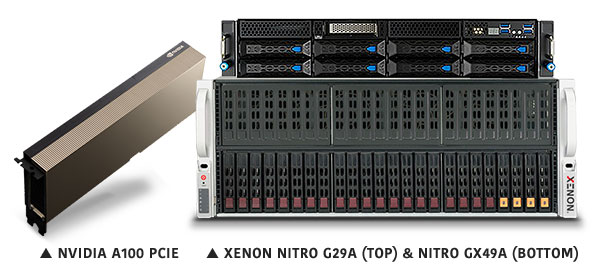 More Info?
Read full A100 PCIe Specs
Check out the XENON NITRO GPU Servers