NVIDIA A100 Tensor Core GPU PCIe
The NVIDIA® A100 Tensor Core GPU in PCIe form delivers 80GB memory, third generation tensor cores, PCIe Gen4 bandwidth, and the ability to create up to 7 vGPU's with NVIDIA's Multi-Instance GPU (MIG) feature. The NVIDIA A100 is now shipping. Contact us for more details and to build your NVIDIA A100 based solution.
XENON also has a range of customisable server builds designed for the NVIDIA A100. From 1 to 10 GPUs – The new XENON RADON Intel servers and the new XENON KRYPTON AMD Servers.
In performance numbers below:
* Structural sparsity enabled;
** SXM GPUs via NVIDIA HGX™ A100 server boards; PCIe GPUs via NVLink® Bridge for up to 2 GPUs.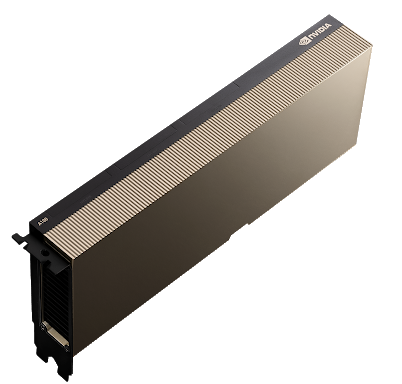 Specifications
GPU Architecture
NVIDIA A100, PCIe
NVIDIA Ampere
Specifications
Double-Precision Performance
NVIDIA A100, PCIe
FP64: 9.7 TFLOPS
FP64 Tensor Core: 19.5 TFLOPS
Specifications
Single-Precision Performance
NVIDIA A100, PCIe
FP32: 19.5 TFLOPS
Tensor Float 32 (TF32): 156 TF | 312 TFLOPS*
Specifications
Half-Precision Performance
NVIDIA A100, PCIe
312 TFLOPS | 624 TFLOPS*
NVIDIA A100, PCIe
312 TFLOPS | 624 TFLOPS*
Specifications
Integer Performance
NVIDIA A100, PCIe
INT8: 624 TOPS | 1,248 TOPS*
INT4: 1,248 TOPS | 2,496 TOPS*
Specifications
GPU Memory
NVIDIA A100, PCIe
80 GB hBM2
Specifications
Memory Bandwidth
NVIDIA A100, PCIe
1,935 GB/sec
Specifications
Error-Correcting Code
Specifications
Interconnect Interface
NVIDIA A100, PCIe
PCIe Gen4: 64 GB/ sec
NVIDIA NVLink®: 600 GB/sec** PCIe
Specifications
Form Factor
Specifications
Multi-Instance GPU (MIG)
NVIDIA A100, PCIe
Up to 7 GPU instances
Specifications
Max Power Consumption (Thermal Design Power, or TPD)
Specifications
Delivered Performance for Top Apps
Specifications
Thermal Solution
NVIDIA A100, PCIe
Passive
Specifications
Compute APIs
NVIDIA A100, PCIe
CUDA®, DirectCompute, OpenCLTM, OpenACC®