NVIDIA L40S GPU «NEW»
NEW
Experience breakthrough multi-workload performance with the NVIDIA L40S GPU. Combining powerful AI compute with best-in-class graphics and media acceleration, the L40S GPU is built to power the next generation of data center workloads—from generative AI and large language model (LLM) inference and training to 3D graphics, rendering, and video.
Download the PDF Datasheet for the L40S.
*Figures below done with Sparsity.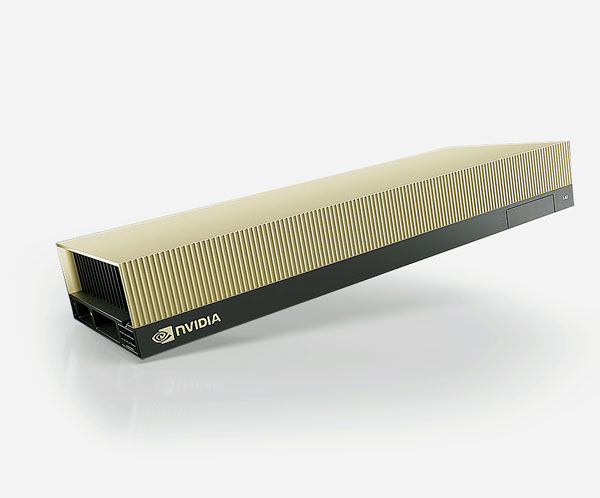 Specifications
GPU Architecture
NVIDIA L40S GPU
NVIDIA Ada Lovelace Architecture
Specifications
GPU Memory
NVIDIA L40S GPU
48 GB GDDR6 with ECC
Specifications
Memory Bandwidth
Specifications
Interconnect Interface
NVIDIA L40S GPU
PCIe Gen4 x16: 64GB/s bidirectional
Specifications
NVIDIA Ada Lovelace Architecture-Based CUDA® Cores
Specifications
NVIDIA Third-Generation RT Cores
Specifications
NVIDIA Fourth-Generation Tensor Cores
Specifications
RT Core Performance TFLOPS
Specifications
FP32 TFLOPS
Specifications
TF32 Tensor Core TFLOPS
NVIDIA L40S GPU
183 I 366*
Specifications
BFLOAT16 Tensor Core TFLOPS
NVIDIA L40S GPU
362.05 I 733*
Specifications
FP16 Tensor Core
NVIDIA L40S GPU
362.05 I 733*
Specifications
FP8 Tensor Core
NVIDIA L40S GPU
733 I 1,466*
Specifications
Tensor TOPS
NVIDIA L40S GPU
Peak INT8 Tensor TOPS: 733 I 1,466*
Peak INT4 Tensor TOPS: 733 I 1,466*
Specifications
Display Ports
NVIDIA L40S GPU
4 x DP 1.4a
Specifications
Max Power Consumption
Specifications
Power Connector
Specifications
Form Factor
NVIDIA L40S GPU
4.4" (H) x 10.5" (L), dual slot
Specifications
Virtual GPU (vGPU) Software Support
Specifications
vGPU Profiles Supported
Specifications
NVENC | NVDEC
NVIDIA L40S GPU
3x | 3x (Includes AV1 Encode & Decode)
Specifications
Secure Boot with Root of Trust
Specifications
NEBS Ready
NVIDIA L40S GPU
Yes / Level 3
Specifications
Multi-Instance GPU (MIG) Support
Specifications
NVIDIA® NVLink® Support