Bridging Long Lead Times
A significant challenge faced by Defence projects is the long lead time from project initiation to delivery of capability. It is not uncommon for this to run into many years of elapsed time by which point key technologies chosen earlier in the design stages of the project have been superseded.
Conventional IT requirements analysis and system design are not suited to these projects. XENON Systems has extensive experience designing and delivering solutions to meet future technology capabilities. This has been a necessary part of providing HPC solutions for leading edge customers that need to plan in advance to ensure appropriate funding, and support capability will be available at the time of delivery.
As a result, XENON works with Defence and Prime Contractors early in the process to understand the core requirements. The XENON team then explores technology options and most importantly reviews product/technology roadmaps for the intended delivery time period. In consultation with the client, agreement is reached on a product set that meets the technical requirements. This could be for a deployment that will take place in two, three or more years' time. Taking this approach:
Provides insights into future technologies (under confidentiality arrangements).
Offers the opportunity to choose from the broad range of technology partners XENON works with. XENON is not locked into any preferred technology arrangements.
Ensures the capabilities are delivered, with the most current and supported technology.
Reduces risk. XENON has a successful track record over 25 years including the last 17 years involved with Defence projects.
Exceed Capability Requirements, with Lifetime Lower Project Costs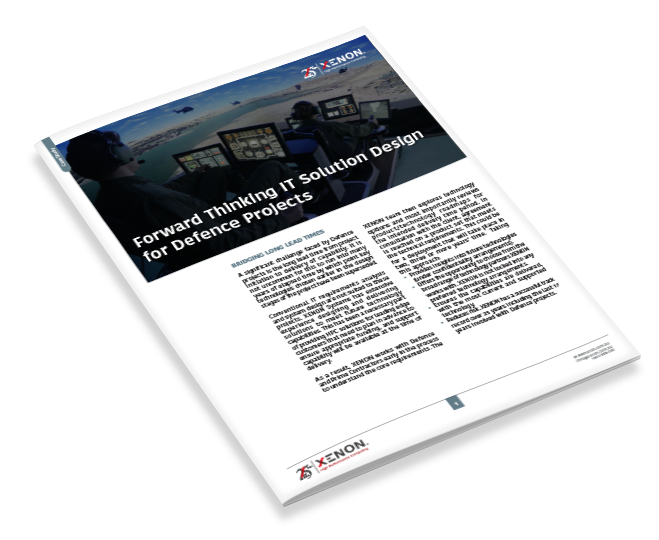 Download the case study
Deploying projects with the most current and supportable technology delivers many benefits beyond the actual technology capability:
The technology meets and often exceeds the capability requirement.
Has lower support costs and enjoys a longer life cycle.
Project costs for technology are contained over long project timelines.
A recent Defence project highlights the benefits of partnering with XENON Systems.
Project was developed over a long period with the RFT released in September 2020.
XENON responded with a view to delivering technology two generations in the future.
Project was awarded in February 2022
Delivery will be late 2022, three generations from when the tender was released.
All of this will be delivered on a fixed and firm response, where XENON manages the technology risk and exchange rate risk. XENON will deliver at the time of commissioning the latest technology platform with a long shelf life, lower cost of support and the highest capability possible at the time.
The flexible manner in which XENON is able to address future requirements with the latest technology makes it the go-to partner for HPC, AI, and high performance networking and storage for Defence projects.
Learn more about XENON's solutions for Defence.
Download the XENON Defence Capabilities brochure.
Talk to a Solutions Architect