Since 2001, Mediaproxy has been providing broadcasters around the world with the best legal and QC logging and monitoring systems. This market has undergone huge changes in the progression from compliance monitoring to the broad range of monitoring and revenue generating options available today to broadcasters, cable and satellite companies. Mediaproxy has been an integral part of the transition from baseband to transport stream (TS) logging and monitoring.
Based in Australia, Mediaproxy provides LogServers to hundreds of broadcasters around the world to record thousands of channels for a wide range of SDI and analogue content. Managing transport streams, recording, and storage and quality assurance has become more complicated even as the options to do so have expanded. With the advent of faster hardware, large-capacity servers and storage, and faster networking infrastructure, the options available to broadcasters have opened up considerably. The need to record, store and monitor huge amounts of data requires continual innovation.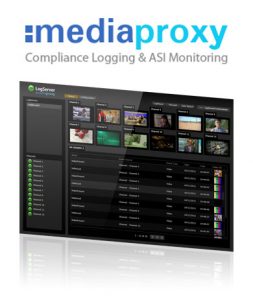 To meet this challenge, Mediaproxy recently added WD Re Datacenter Hard Drives to their LogServer IP, enhancing their logging and monitoring capabilities with a high-capacity and faster HDD. "Our customers have storage, monitoring and data mining needs that never sleep," said Erik Otto, CEO of Mediaproxy. "We were looking for an internal hard drive with the best transfer speeds, high-capacity storage and reliability. We found them with the WD Re 4 TB internal SATA drives."
LogServer v1.5 is the latest update of Mediaproxy's MPEG- based recording and transport stream QoS monitoring solution. In addition to continuous recording, LogServer IP provides ETR290 ASI priority monitoring. Available for both DVB and ATSC compliant transport streams, customers can monitor ETR290 events via a comprehensive HTML5 user interface on all desktop and mobile platforms.
LogServer offers native MPEG clip recording based on either EPG or manual timer settings. Clips can be recorded from hundreds of MPEG transport stream services and played back via the new LogPlayer IP MPEG multi-player user interface. This offers an enterprise grade solution for corporate networks, previously only available via consumer grade set top boxes with local disk storage.
The Challenge
All of the native MPEG media in the TS needs to be recorded and stored by LogServer IP, requiring disk drives that can handle large amounts of data quickly, reliably and securely. For example, LogServer IP comes with either 80 TB or 120 TB of RAID protected storage. This recording and storage requires maximum uptime and large capacity drives for long-term retention.
Regulatory mandates for retention vary from region to region, but range anywhere from 30 to 90 days."To accommodate these high-powered capabilities, we needed to find high-capacity, enterprise-grade hard-drives with high I/O performance," said Otto. "Most importantly, the company was looking for internal HDDs with reliable performance in the highly volatile 24/7 broadcast environment in which LogServer IP is used."
The HDDs needed to be supported in RAID5 and 6 configurations. These drives would need to enable TS recording, native MPEG logging and full MPEG playback and live streaming.
The Solutions
"Through detailed testing, we found that all our hard-drive requirements were met by the WD Re 4 TB SATA internal hard drives," said Otto. "We are now using WD HDDs for all our LogServer products."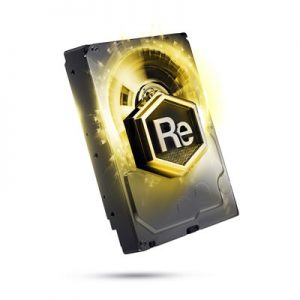 Mediaproxy is using the WD Re Datacenter Hard Drives with a capacity of 4 TB and 7.8 billion sectors per drive. WD Re boasts transfer rates of 6 Gb/s using a Serial ATA (SATA) interface. Its rotational speed is 7,200 rpm and has a buffer size of 64 MB. The WD Re is ideal for reliable cloud storage, RAID arrays, high-availability external storage arrays and data mining.
"The WD Re is a HDD we can rely on for large capacity reads/writes across high-end server RAID configurations," Otto explained. "The WD Re 4 TB HDDs are reliable, fast and come with a good price. Since they have the highest error tolerance and MTBF, our customers can depend on them every hour of every day."
In fact, it is the high-capacity, peak performance and tough design that make WD Re HDDs ideal for the heavy workloads of Mediaproxy's broadcast customers. In addition, Mediaproxy is impressed with the seamless five-year warranty WD offers on its HDDs.
The Results
With the significant increase in storage capacity and reliability that the WD Re HDDs provide, Mediaproxy is satisfied that its LogServer ASI and IP work faster and better.
"With the WD Re 4TB drive, LogServer IP can continue to provide our broadcast customers with logging, improved QoS monitoring, long-term reliable storage and faster transfer speeds," explained Otto. "Our LogServer IP users benefit from a low TCO solution and don't have to worry about storage capacity, performance or expensive downtimes." This long-term relationship with WD is proof of a strategic partnership and an example of collaboration where everyone benefits.
About Mediaproxy
Mediaproxy is a global manufacturer of complete systems for the monitoring and logging of rich media to broadcasters, IPTV, cable and satellite providers around the world, allowing them to record, archive, index and re-purpose broadcast media and related information.
An affiliate of XENON Technology Group (XTG), Mediaproxy has established itself as a leader in professional broadcast monitoring and compliance logging since 2001. Mediaproxy's product line of high-performance hardware platforms and customized software for broadcasters and digital content creators includes LogServer and LogServer ASI. Mediaproxy is based in Melbourne, Australia.
For more information, visit www.mediaproxy.com.
Talk to a Solutions Architect
LATEST STORIES