The German Huf Haus construction company specialises in premium-quality "flat-packed" houses. Someone buying such a house can choose unique specifications for their new home – from size and room layout, right down to choice of taps, tiles and light switches. Once manufacturing is completed, the flat-pack is shipped to the customer's site along with a "fit-out crew" to assemble it. The end product is a finished, fully-habitable home [complete with power and plumbing connections] that takes approximately one week to install.
The popularity of the concept has grown enormously in recent years, with satisfied customers often lauding the dramatically short completion time – compared with traditional house building techniques.
In a similar fashion to ready-built homes like Huf Haus', computing technology firms are now offering fully integrated, pre-configured systems to customers that can be up and operating to spec in a fraction of the time that traditional modular installations can take.
XENON too has been quick to adopt this new integrated approach to system delivery, with the ability to fit ready-to-deploy HPC, cloud computing, visualisation and digital cinema solutions. With construction, calibration and configuration already automated at our facilities, installation times have dropped significantly. This has had the dual benefit of cheaper install costs for customers and great service delivery and response times by XENON technicians.
ICAA Case Study
A recent example of a major integration project XENON embarked upon was for the Independent Cinema Association of Australia [ICAA]. ICAA members undertook an upgrade to movie theatres traditional 35mm film reel projectors with digital projectors. The project was rolled out across 140 ICAA cinemas and required that each one received a new Library Management System [LMS] necessary for the switch to digital.
XENON's solution comprised a LMS Rack with a fully pre-configured server solution powered by Intel® Xeon® processors to ensure minimal customisation or technical intervention was required once the server was installed at the host theatre.
The decision to use Intel® Xeon® processors was based on their ability to offer Turbo Boost Technology. This meant the LMS was provided with an intelligent performance-per-watt output that could match constantly shifting computing demands and allow for multiple digital cinema servers to be updated with new content simultaneously.
As with the plumbing and power supply fitting in Huf Hauses, all of the new LMS's networking and software requirements were also pre-configured and assembled in the most compact rack units available. This also pared back the installation time significantly and aided in more immediate deployment of the new LMS.
Furthermore, the integration of the centralised LMS technology with the ICAA's own Network Operation Centre [NOC] meant that any changes to the system required at a future date could be easily handled via firmware updates.
A Happy Customer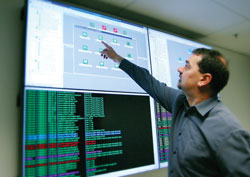 Adrianne Pecotic, CEO of the ICAA says that the decision to hire XENON was based out of a desire to "…work with a partner [who] could provide an advanced, agnostic technology environment but which allowed flexibility for any customisation required, all at a realistic price point. XENON Systems stood out at meeting all of our requirements, and the team showed a great deal of passion to work with us, [and Cinedigm], to drive this enormous revolution taking place behind the cinema screen."
If you'd like to learn more about XENON's integrated solutions, please contact us or call 1300 888 030.