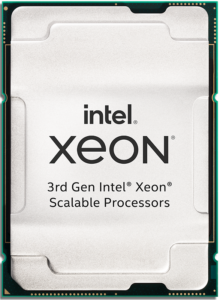 Third Generation Intel® XEON® Scalable processors (code name "Ice Lake") are now available from XENON. These new processors are available in a range of server form factors to meet organisational compute requirements. Configurations are optimised for entry level workloads, mid-range performance, and high performance – high density workloads.
The new Third Generation XEON Scalable processors have enhancements across key performance areas for organisations, enterprises, universities and government departments. The new processors are optimised for enterprise applications, High Performance Computing, security, IoT and networking workloads. The new Third Generation XEON CPUs are divided in to Platinum, Gold, Silver, and Bronze tiers, with 8 to 40 cores and a range of frequency, feature and power levels .
Bronze delivers solid reliability and serviceability for small business servers and storage server solutions.
Silver range has performance and power efficiency for entry level enterprise workloads, networking and storage.
Gold range has up to 4 socket scalable performance, with advanced reliability and security features.
Platinum range features advanced 2,4, and 8 socket performance designed for demanding workloads and services.
Talk to a Solutions Architect
Third Generation XEON Features
AI Acceleration. The new XEON processors include built in AI acceleration, and can be combined with end-to-end data science tools to create end-to-end AI solutions. The in built accelerators include Intel Deep Learning Boost, Intel Advanced Vector Extensions 512, and intel Speed Select Technology. These technologies provide flexibility to run complex AI workloads as well as existing enterprise workloads on the same processors. This is achieved by maximising use of compute resources, improving cache utilisation and reducing bandwidth bottlenecks.
Encryption. The new XEON generation is designed with encryption and security in mind, with Intel Crypto Acceleration which increases the performance of encryption intensive workloads such as VPN/Firewalls, SSL web serving, 5G infrastructure. The Intel Crypto Acceleration allows the new XEON processors minimise the performance load of managing these encryption heavy workloads.
PCIe Gen 4. The full range of the new XEON processors support PCIe Gen 4 with more lanes for increased bandwidth to make the most of the latest high performance PCIe Gen 4 expansion cards.
Performance. The new XEON processors have delivered on average 1.46x performance improvement when compared with XEON Gen 2 with 1.6x higher memory bandwidth, 2.66x higher memory capacity, and up to 1.33x more PCI Express lanes per processor with PCIe Gen 4.
Security. Enhanced security features have been delivered in a way that enhances the performance of the Third Generation XEON processors. Security features include Intel Software Guard Extensions which provide application isolation in memory independent of OS or hardware configs; Intel Crypto Acceleration for better encryption performance; Intel Total Memory Encryption with full physical memory encryption to support enhanced data and VM protection.
Speed. While the new Third Generation XEON is faster and more powerful, the Platinum and Gold range also includes new Intel Speed Select Technology (Intel SST), which provides fine tuning of speed profiles of these Platinum and Gold range CPUs.

Servers Available Now
XENON is currently building configurations for customers with the new Third Generation XEON Scalable processors. Please discuss your needs with us today to build up a server that fits your requirements and budget. Options include:
Entry Level. Smaller configurations for entry level servers, meeting needs of small business workloads with either Bronze or Silver range XEON Scalable processors.
Mid-Range. These are larger more powerful configurations for enterprise workloads, memory and compute intensive VM hosts and VDI applications typically configured with Silver or Gold XEON Scalable processors.
High Performance. These servers are high density, high performance and can be configured to maximise core count per rack unit, as well as delivering high memory bandwidth. These servers are typically configured with Gold or Platinum XEON Scalable processors.
GPU Servers. This range of servers utilises the PCIe Gen 4 to maximise utilisation of GPU computing for HPC, AI and visualisation workloads. Configured with Platinum or Gold XEON Scalable processors getting core count, memory bandwidth and GPU capacity right is where our solutions architects excel.
Examples of the Mid-Range servers include the XENON RADON R1895/R1895 G2 – Learn more about the Mid-Range servers.
Examples of the High Performance servers include the RADON R4590/R4590 G2. – Learn more about the High-Density range. 
Contact XENON today to configurate a new Third Generation XEON Scalable processor server for your organisation.
Get a Quote