Flexible configurations for 10/40/56Gb Ethernet
Introducing a complete end-to-end Ethernet connectivity bundle for 10GbE, 40GbE, and even 56GbE for only $9,485 ex GST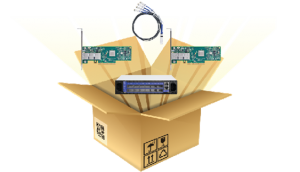 With support of up to 48 x 10GbE ports, 12 x 40/56GbE ports, or a combination of 10GbE/40GbE/56GbE ports, the bundle from Mellanox includes a switch, two adapters, software licenses, cables and support – all from a single vendor ensuring fast deployment as well as quality and support at every point in your datacenter environment.
Get a Quote Talk to a Solutions Architect
Use this bundle to:
Experience the speed of data, accelerate your applications
Connect compute, database and storage with small, non-blocking switch footprint
Evaluate OpenStack and more using Mellanox various plug-ins
Take advantage of VXLAN / NVGRE hardware offloads for cloud setups
Accelerate storage protocols like iSCSI, iSER and RDMA (RoCE)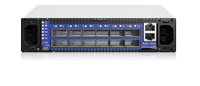 SwitchX®-2 MSX1012 Switch
► Unique Form Factor
1U, ½ rack width – special rail kit included
Full redundancy with dual fans and power supplies
Get up to 96 ports of 10GbE in 1U with 2 x SX1012s
► Multiple Speed & Protocol
Run multiple speeds of Ethernet on one switch – 1Gb, 10Gb, 40Gb, 56Gb
Virtual Protocol Interconnect (VPI) supports running both Ethernet and InfiniBand on the same switch
All ports support LR4 for multi-site connectivity
► Flexible Configurations
12 ports of 40Gb/56Gb Ethernet (QSFP) 48 ports of 10Gb Ethernet* (SFP+)
Blocking example: 40 x 10GbE + 2 x 40/56GbE uplinks
Non-blocking example: 24 x 10GbE + 6 x 40/56GbE uplinks
*Each 40/56GbE (QSFP) port can be used with a passive breakout cable to create four 10GbE (SFP+) ports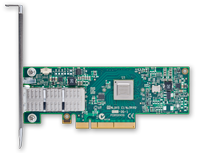 ConnectX®-3 Pro Single Port Adapters
►Highest Bandwidth
10/40/56Gb Ethernet support
►Highest Productivity & Efficiency
Reduce power, cost, cabling
VXLAN/NVGRE offloads
RDMA over Converged Ethernet (RoCE)
►Software Support
Drivers for Microsoft, Linux, VMware and Citrix


LinkXTM Cables
►Highest out-of-the-box quality
Every cable and transceiver is pre-tested, ensuring faster installations
►Better System Performance.
1000x fewer transmission errors than many competitive products
►Patented Products (Quad-to-serial adapter)
Directly attach SFP+ copper cable to QSFP+ port (40Gb to 10Gb port)
Bundle Includes:
1 SwitchX-2 MSX1012 Switch + Rail Kit
2 ConnectX-3 Pro Single Port Adapters
1 56GbE software license for MSX1012
1 ETH/IB gateway license for MSX1012
1 1-Year Silver Support for Entire Solution
1 Passive Copper Cable, 3m: 40Gb (QSFP) → 4x10GbE (SFP+) Splitter
1 Passive Copper Cable, SFP+, 3m
1 Passive Copper Cable, VPI, 1 QSFP, 2.5m
1 Passive Copper Hybrid Cable, 3m: 10GbE QSFP → SFP+
1 QSA Module: 40GbE QSFP – 10GbE SFP+
Optional:
Add another MSX1012 switch with software and support for only

$5,985

Additional accessories available including different length cables, transceivers, and adapters to customize the solution.
Benefits of Mellanox Ethernet Solutions:
► Superior Infrastructure ROI
Lowest cost per Gb
Improve rack density
Leverage power savings for more compute/storage
► High Bandwidth
Highest available speeds – up to 56GbE
Predictable performance with lowest latency
► High Availability
Enhanced network resiliency
Full redundancy for faster failure recovery
► Maximum Efficiency
Maximum port count in smallest footprint
Lowest power on the market
Up to 4x reduction of cables


Mellanox is the leading provider of high-performance interconnects, and the only vendor that provides a complete end-to-end 10, 40, and 56Gb/s Ethernet connectivity solution, including NICs, switches, cables, software and support. Mellanox provides the best customer experience with easy installation and management, all with seamless integration and support.