Data centre customers select Mellanox LinkX interconnect solutions because this technology choice scales in bandwidth, distance and media type providing a cost-effective solution for each specific application.
Mellanox is confident that LinkX Datacenter Interconnect Solutions will provide a great experience for your datacentre and is offering:


 
Direct Attached Copper starting from
Active Optical Cables starting from
Transceivers
starting from
10G
$49 ex GST
$249 ex GST
25G
$99 ex GST
$399 ex GST
$349 ex GST
40G
$109 ex GST
$499 ex GST
$749 ex GST
100G
$199 ex GST
$999 ex GST
$999 ex GST
Please contact XENON for Volume pricing. Prices quoted in $AUD.
**Please click here to view Terms and Conditions of this offer
Contact us today about this offer.
Get a Quote
Mellanox is a Leading Supplier of End-to-End Interconnect Solutions and this program includes:
10G, 25G, 40G, 50G, 100G
DACs, AOCs and Transceiver based solutions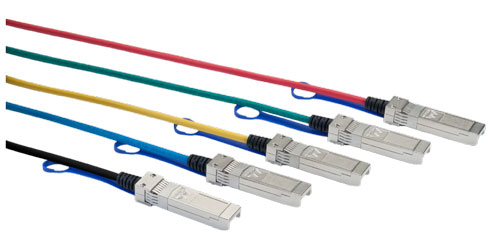 Why Mellanox?
Supercomputing grade performance

Our products are tested to a Bit Error Rate (BER) of less than 10-15. This means 1000x fewer transmission errors

Compatibility with equipment from:

Alcatel-Lucent, Arista, Avaya, Brocade, Cisco, Dell, Extreme and many others

Proven flexible and high volume manufacturing model enables short lead times

• Buffer stock of finished goods available for quick turnaround
• Inventory levels defined with the customer

Flexibility to meet customer product requirements and needs

• Marking, part number and serial number formats
• Special lengths and packaging
• DDMI for advanced diagnostic monitoring
• Colour tabs available in Blue, Green, Red, Yellow

Terms and Conditions
In these Terms and Conditions:
'we, us, our' means:
If the Product is purchased in Australia – XENON Systems PTY LTD ABN 39 074 339 316 10 Westall Road CLAYTON SOUTH 3169;
'Offer' means our 30 Day Money Back Guarantee, which is offered to you under these Terms and Conditions.
'you, your, yours' means you, if you are a resident of Australia
Have purchased a Product directly from us and
make a claim for the Offer within 30 days of that purchase date.
You agree that these Terms and Conditions apply to a claim for the Offer.
The replacement unit will be shipped to customer after the following 2 conditions have been fulfilled.

The unit has been identified as a defective unit by a XENON support engineer and the advanced replacement RMA number has been issued.
The address information has been confirmed by the customer.

If the shipping order is received before 2:00pm Eastern Standard Time, the replacement unit will be shipped the same day. If the shipping order is received after 2:00pm, the replacement unit will be shipped the next business day. XENON office hours are from 9:00am to 5:30pm EST.
The replacement unit will be shipped by using standard 3-day express or equivalent level of service.