Health and Life Science organisations face challenges not only on the scientific front, but also on the compute and data storage fronts. Recent advances in instruments, sequencers, and bioinformatics has resulted in exponential increases in data sets created. Innovation in computing techniques allow for re-processing of previous data sets, creating new experiments and insights from older data sets.
Recent advances in GPU computing like the NVIDIA DGX A100 has unleashed the potential of huge leaps in computation processing. The question then becomes how do you get enough data in, fast enough, to generate meaningful results? Current storage systems often hold back research teams and become a serious bottleneck in the data workflow. Moving data between fast scratch storage, near line disk and cold archive just creates more delays and data management overheads. Now there is a better way.
VAST – Universal Flash Storage
VAST breaks the decade old tradeoff between storage performance and capacity, by providing a unified all-flash storage monolith. VAST delivers simplicity of an all-flash parallel file system with limitless scalability.  Your bioinformatics applications can now run at scale, at speed, and have access to all the experimental data in your archive with flash based speed.
Could you accelerate your researcher's rate of discovery, if they had access to their entire corpus of research work, on a single tier of flash storage? What would you learn from analysis and re-analysis at the speed of flash?
Discover more with VAST Storage.
VAST's all flash performance is 10x faster than scale out hard drive based storage, and eliminates latency of tiering to tape and object stores. VAST's cluster based architecture allows for QoS for teams and applications, and eliminates I/O bottlenecks.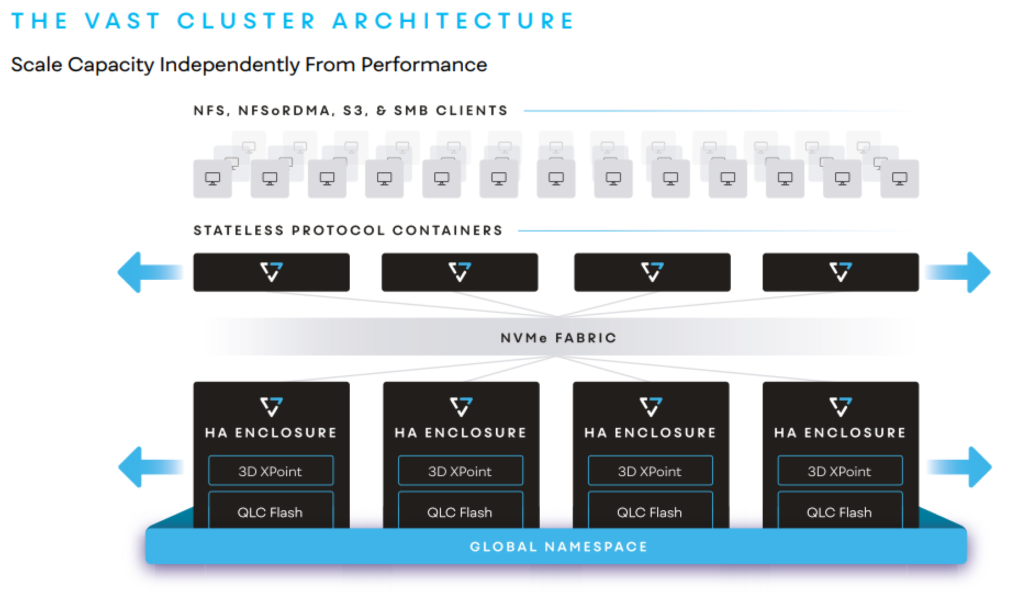 VAST-LY Better Option
The VAST architecture brings three new technologies into play – NVMe over Fabrics, 3D XPoint memory, and QLC Flash. The combination in VAST delivers millions of IOPS, terabytes of throughput and exabytes of scale. The universal name space and truly parallel file system makes data management easy, with multi-protocol access and multi-tenant with QoS providing robust management.
Learn more about VAST for life sciences and bioinformatics in this datasheet.
Contact XENON today to learn how VAST can help you realise the potential of all your data, now!
Talk to a Solutions Architect