Enquire about this solution
VAST Data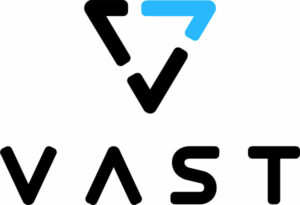 VAST Data has built an architecture which has broken the traditional trade-off between performance and capacity, and the traditional architecture of tiering data between faster and slower categories of storage. VAST Data brings innovation in design and technology to deliver a storage cluster that is fast enough, scalable enough, and affordable enough for all data and all applications.
VAST Data's disaggregated, shared-everything architecture is purpose built to scale to petabytes, give tier-1-all flash performance, and sells at a price point equivalent to what you would pay for archive storage.
When it's possible to have all your data on NVMe flash, new insights are possible and always at your fingertips. So how do they do this? VAST Data combines three key technologies in their architecture – NVMe over fabrics which enables a shared-everything architecture, QLC Flash enabling transformative economics and density, and 3D XPoint enabling QLC Flash and revolutionary storage efficiency.
VAST Data combines these three technologies in a flexible, scalable cluster architecture.
VAST Data Cluster Architecture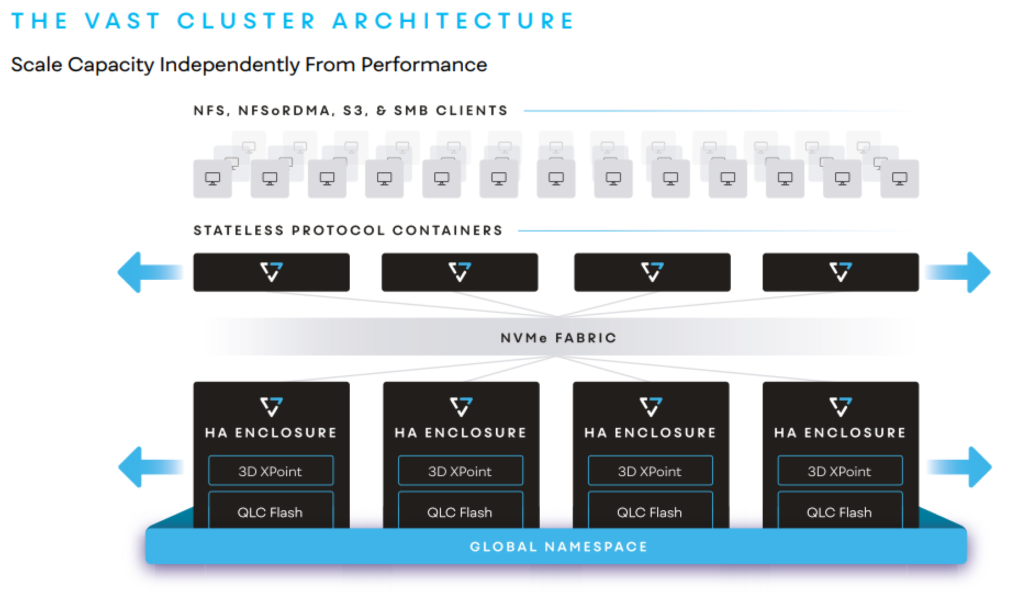 Vast Servers
Clusters can be build from 2 to 10,000+ stateless servers. Servers can be pooled for QOS, scaled on-demand and co-located with applications to bring NVMe over Fabrics speed all the way to the host.
NVMe over Fabrics
VAST Data builds a redundant, independently scalable cluster by connecting every server and device in the cluster over commodity data centre networks (Ethernet of Infiniband), enabling VAST's shared everything concept.
HA Enclosures
Highly available NVMe Enclosures manage up to 1PB per rack unit. Enclosures can be scaled independently of Servers, and clusters can be built to manage exabytes of data in one multi-protocol namespace.
Lightspeed
VAST recently announced a faster platform, for more demanding workloads such as artificial intelligence, heavy data analytics, media streaming. Single enclosures run at up to 40GB/s, and the linear nature of VAST scalability allows for ramp up in performance with additional enclosures. Read the full details in our blog post on Lightspeed and download the VAST Lightspeed eBook here for full details.
Consolidation, Simplicity, Consistent Performance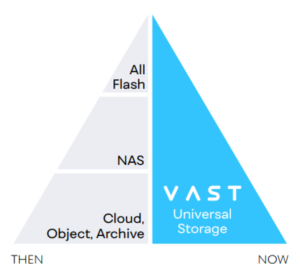 VAST's global flash translation software enables the QLC flash to be used in enterprise environments for over a decade, guaranteed.  VAST's next generation erasure code protects your data while bringing the storage overhead, or cost, of protection down to just 3% while delivering 100x more resilience than traditional erasure codes. VAST's similarity based data reduction finds patterns across the namespace with a granularity that is 4,000 to 4,000,000 times smaller than traditional approaches, delivering the best reduction ratios of any storage, ever, guaranteed.
View the two minute overview of VAST:
Breaking the Legacy Latency Deadlock
XENON is pleased to bring VAST Data to Australia and New Zealand customers. The XENON team has been exploring VAST solutions for customers who are fighting traditional storage architectures to get the capacity and speed they need for their workloads. The increasing size of data sets across all key applications has elevated this issues.
The VAST architecture allows for incredible speed and low latency across the entire storage environment!  The result is outstanding performance and true simplicity.
VAST Data solutions are ideal for a range of high performance, low latency requirements.
Artificial Intelligence. VAST RDMA acceleration for GPU servers is 4x faster than NAS and VAST eliminates HDD latency by making flash affordable for all data analytics and training data.
Content Creation. Workflows run faster when you combine the performance of all-flash NAS at a price point of archive storage.
Content Delivery. CDNs, OTT's, and service providers can now eliminate service latency and serve exabytes of content from flash.
Data Protection. Enterprise backups are more efficient, recoveries are faster, and data centres rack space is reduced with VAST.
HPC. VAST Data delivers the performance of a parallel file system, with the simplicity of a modern NAS platform.
Life Science. Accelerate classic and modern bioinformatics pipelines and consolidate storage silos.
Quantitative Trading. Gain ultimate advantage when all research data can be analysed at NVMe speeds.
These solutions are tried and tested, and being delivered now. Contact XENON to discuss how VAST Data could transform your workloads.
Talk to a Solutions Architect