MetaConnect 48
MetaConnect 48 is a layer 1 switch specifically designed for latency sensitive applications such as trading, but can benefit any network without adding overheads.
At the physical layer it forwards bitstream-level data between ports in around 4 nanoseconds with full signal recovery and regeneration. MetaConnect is deterministic with virtually undetectable jitter because it doesn't buffer or queue any data. This also means that it can utilize 100% of the available bandwidth.
Features and Benefits:
4ns Latency: Provides a host of features and yet it is barely detectable in the network. The latency has been verified in our own benchmarks, and also by STAC Research.
Crosspoint Switch: Acts as remotely configurable patch panel, kill-switch or bypass for failed links. "Wire once" to reduce visits to the data-center.
Port Mirroring: Replaces network taps to monitor or share feeds such as market-data with full regeneration and no additional overhead.
Media Conversion: Reduces costs by converting between different media types running at the same rate. e.g. convert from high cost fibre to lower cost copper.
Flexible SFP/SFP+ support: Allows the use of less expensive modules that are boosted by MetaConnect's high performance signal recovery and regeneration.
Protocol Agnostic: Connects any bit-stream with regeneration to improve signal quality.
Get a Quote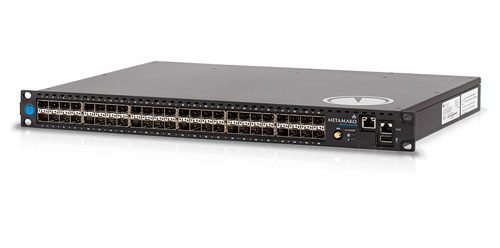 Metamako MetaConnect 16
SFP/SFP+ ports from 100M-11.3Gbps
Bit-for-bit forwarding for any protocol
Unlimited port-to-port mirroring with regeneration
Multiple independent links through the device are supported at different data-rates
High performance signal recovery, regeneration and conditioning (EDC on input, CDR on input and output)
Packet statistics and precise timestamping