MetaMux 48E «NEW»
MetaMux 48E is a hybrid multi-layer switch designed for the most latency critical networks such as trading environments.
It is multiple switches in one – performing layer 1 switching in only 5 ns and multiplexing/aggregation in 55 ns, making it extremely useful for connecting trading machines directly to exchanges.
Features and Benefits:
Fast multiplexing: Aggregate streams from multiple sources into a single stream for hand-off to exchanges, microwave links, or WAN links. Also configurable as multiple many-to-one multiplexers.
Integrated layer 1 switching: Patching, media conversion, tapping replication and packet statistics. Wire-once to reduce visits to the data center. Use Layer 1 broadcast to implement a return path with a latency of just 5 ns and virtually no jitter.
Deterministic: Replaces taps to monitor or share feeds such as market-data with full regeneration and no additional overhead.
Flexible SFP/SFP+ support: Allows the use of less expensive modules, including direct attached copper cables, that are boosted by MetaMux's high-performance signal recovery and regeneration.
Protocol flexibility: Protocol agnostic at layer 1 while layer 2 packet features support 1GbE and 10GbE with 100M. 100M Ethernet and rate conversion are planned for a future software release.
Packet statistics: Advanced monitoring. Captures high-level packet statistics across all ports. Supports detailed switch statistics via SNMP or CLI. Provides tcpdump and LLDP on every port.
FPGA Development: Flexible platform with all 48 ports connected to the onboard Xilinx® Ultrascale™ or Ultrascale+ FPGA(s) for custom applications.
x86-64 Linux management: Uses open standards platform and MOS operating software to provide user extensible solutions.
Get a Quote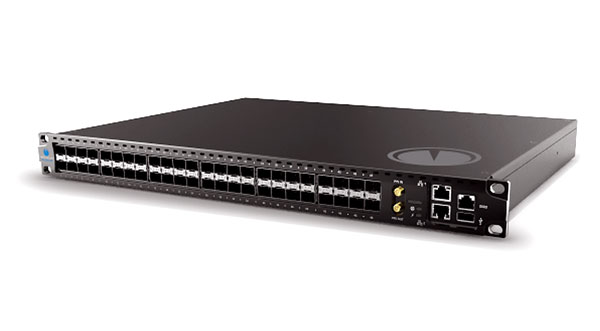 Metamako MetaMux 48K
5 ns latency with virtually no jitter
Non-blocking matrix switching fabric
SFP/SFP+ ports from 100M-11.3Gbps
Bit-for-bit forwarding for any protocol
Unlimited port-to-port mirroring with regeneration
Multiple independent links through the device are supported at different data-rates
High performance signal recovery, regeneration and conditioning (EDC on input, CDR on input and output)
Model Name
Cable Compatibility
Metamako MetaMux 48K
Compatible with SR, LR, ZR and LRM SFP/SFP+ modules and direct attach cables
Drive any MSA compliant SFP/SFP+ module
Works with long list of third-party SFP/SFP+ modules
100M,1GbE, 10GbE and many others
Model Name
Management Platform
Metamako MetaMux 48K
Quad-core, hyperthreaded x86-64 CPU
4GB RAM, on-board SSD
Industry standard command line interface (serial/SSH/telnet)
Web-based GUI
Linux based (shells, scripting, Python, RPMs etc.)
Binary compatibility with other x86-64 based Linux systems
Firmware restore and update via USB, serial and network
A future software release will provide a switch subsystem API and allow user applications to run in a VM
Model Name
Management Protocols
Metamako MetaMux 48K
HTTP/S, SSH, telnet
Serial console
PTP, NTP
SNMP v1, v2, v3
DHCP
Network boot via TFTP (Available in a future software release)
Local and remote syslog
RADIUS and TACAS+ authentication
Model Name
Operating Environment
Metamako MetaMux 48K
Temperature: 0°C to 40°C
Humidity: 10% to 85%, non-condensing
Maximum altitude: 3000m (9800ft)
Model Name
Physical And Electrical
Metamako MetaMux 48K
Dimensions (h x w x d): 4.3 x 44.8 x 37.9cm (1.7 x 17.6 x 14.9in)
Weight: ~8kg (17.6lbs), depending on configuration
Maximum power: 290W
AC voltage range: 100-240V, AC frequency: 50/60Hz
DC voltage range: 40-72V